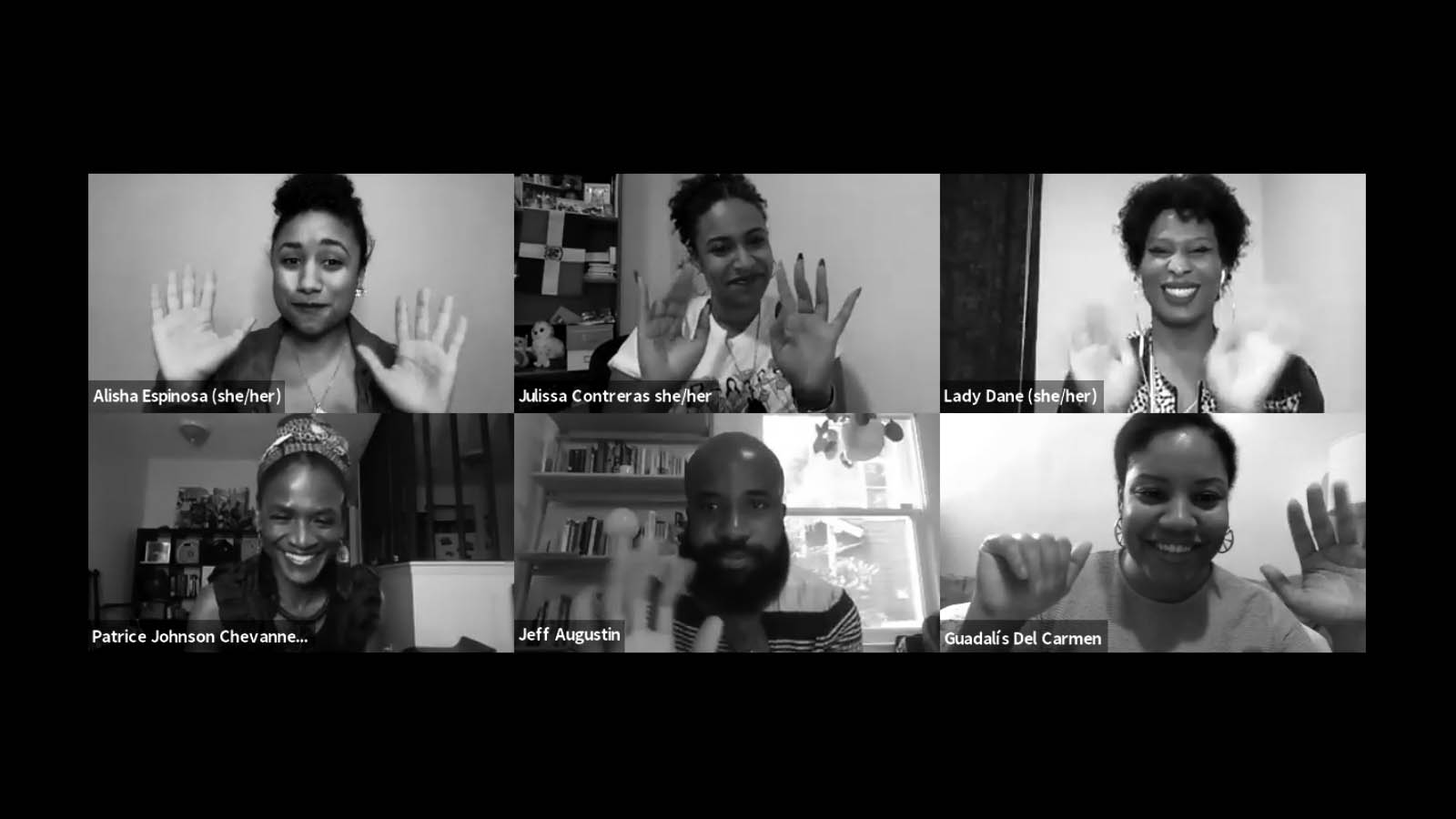 Virtual Engagement
If anyone can make magic out of these trying times, it's theater makers. With our team of endlessly creative and resourceful staff and faculty ready to make the most of this unprecedented situation, we've curated a few different digital ways for you to join us on this ride. Read on for all of the details, and no matter your background, we hope you'll tune in!
Atlantic for Kids
And in This Corner: Cassius Clay

by Idris Goodwin
Directed by REGGIE D. WHITE
This stage play turned four-part episodic audio drama by playwright, rapper, and poet Idris Goodwin is recommended for grades 4 and up. Reservations are free but required, with a suggested donation of $20!
about the Audio PLAY
Every hero starts somewhere. For 12-year-old Cassius Clay Jr., who would become the sports legend known to the world as Muhammad Ali, it was a boxing gym in Louisville, Kentucky. This is the swift and vibrant origin story of how a determined young boy growing up in the Jim Crow South took on all challengers in his path to becoming…The Greatest. An unlikely hero is a classic story, but And in This Corner goes an extra, exhilarating round by exploring how remarkable communities help to create them.
And in This Corner: Cassius Clay features Danté Crichlow, Sinclair Daniel, Langston Darby, Anthony Holiday, Franck Juste, Jacquelyn Landgraf, Eric Lockley, and Andy Schneeflock, all of whom are alumni of Atlantic Acting School!
Technique Tuesdays
A series of free hour-long acting workshops led by Atlantic Acting School Faculty. The Atlantic Technique, Practical Aesthetics, provides a disciplined approach to script analysis, working truthfully moment-to-moment, and bringing these competencies together in performance of selected material. Upcoming sessions to be announced at a later date. Stay tuned!
RECENT SESSIONS:
Intro to the Atlantic Technique, Practical Aesthetics
Atlantic Acting School Faculty member Chivonne Michelle will take you through the building blocks of Practical Aesthetics, the Atlantic Technique, as outlined in A Practical Handbook for The Actor. In this introductory workshop, you'll develop basic technique, learning to articulate your understanding of text through compelling, playable actions.
Chekhov & the Atlantic Technique
By working actively on the integration of voice and movement, you'll discover the visceral freedom and sense of play that brings Chekhov's text to vivid life! With a personalized technique as your foundation and master Faculty member Anya Saffir as your guide, you'll learn to interpret the great complexity and depth of character in Chekhov's texts.
The Truth of the Moment: Every Moment Matters
In this Acting Lab with Atlantic Acting School Artistic Director Reggie D. White, actors will learn how to live fully in the truth of their work and make the most of every moment of a scene. Learning to recognize the truth of the moment is a radical, playful experience, driving home the idea that live performance is an irreproducible event and each performance presents an opportunity for inquiry and discovery.
Film/TV & the Atlantic Technique
In this lecture-meets-demo taught by Atlantic Founding Ensemble member and seasoned actor/director Clark Gregg, learn to apply our signature technique to on-camera audition work, sharpening your skills and allowing you to make the most of every TV/film casting session!
Monologues & the Atlantic Technique
A key component of Practical Aesthetics is learning how to place your attention on your fellow actor in order to consistently arrive at the most truthful moment. What happens when there is no one to play off of? Atlantic Ensemble member & senior Faculty Karen Kohlhaas will guide you through creating memorable and connected moments when self-directing for audition monologues.
Wrapping Up the Atlantic Technique
With the tools of Practical Aesthetics under their belts, actors can arrive at interpretations of a given text that are both personally meaningful and squarely rooted in the playwright's intentions. In this closing panel discussion, Chivonne, Clark, Karen, Anya and Reggie will answer all of your burning questions, providing guidance on how to successfully and consistently apply the technique in your acting choices!
Technique Tuesday Faculty
Past Digital Programming
Missed a recent event? Catch up here!
African Caribbean MixFest
Two weeks of readings of new work co-produced by playwright Guadalís Del Carmen and playwright, director and Artistic Director of the Young Vic Kwame Kwei-Armah. While streaming has wrapped, you can still watch three lively artist conversations.
She Persisted, The Musical (Virtual Production)
Missed this awe-inspiring virtual production for young audiences? You can still watch a conversation about the show's journey from page to stage to Zoom screen, featuring the cast, director and Chelsea Clinton.
october 22-24, 2020
Our Reunion Reading series launched with Dominique Morisseau's acclaimed Skeleton Crew featuring original cast members Jason Dirden, Wendell B. Franklin, Nikiya Mathis, and Adesola Osakulumi, along with Caroline Clay.
Live with Atlantic: Remix
A Conversation between Lynn Nottage & Dominique Morisseau
Guards at the Taj : A Reunion Reading
November 5-7, 2020
Following our 2015 production, the original cast (Omar Metwally and Arian Moayed) returned as Imperial Guards to the shadow of the newly-revealed Taj Mahal in 1648 India.
Live with Atlantic: Remix
A Conversation between Rajiv Joseph & Amy Morton
Feel Good Fridays
Enjoy these #FeelGoodFriday clips from our archives, where the art simply speaks for itself. Featuring selections from The Band's Visit, The Secret Life of Bees, Blue Ridge, This Ain't No Disco and more!
Live with Atlantic
A series of live conversations, watch parties, live tunes and more featuring artists from our past, present and future. From Creator's Cut, a Watch-Party-meets-Master-Class, to conversations between writers like Lynn Nottage & Dominique Morisseau, our Live with Atlantic series highlighted Atlantic artists.
A Kids Play about Racism learn more
Atlantic for Kids, with the leading support of Bay Area Children's Theatre, Alliance Theatre, and Seattle Children's Theatre, is proud to partner with 41 Theaters for Young Audiences (TYA) nationwide to participate in a kids play about racism, a groundbreaking online educational performance for families adapted and directed by a beloved member of our artistic family, Khalia Davis!
Part Time Classes at Atlantic Acting School learn more
Hungry for more rigorous & comprehensive acting training? Dive into Atlantic Acting School's renowned learn-by-doing approach with new part-time virtual programs for adults (18+)!
Focus on your craft. Make connections. Keep Creating.