Work With Us
Unwavering Teamwork and Lifelong Community
We are a family of artists committed to strengthening each other. Collaboration has been the central facet of Atlantic's DNA since our founding, demonstrated in the way we support and stand by our artists, teachers, staff, and students. No matter the partnership, unwavering teamwork and encouragement sits at our core. Join us.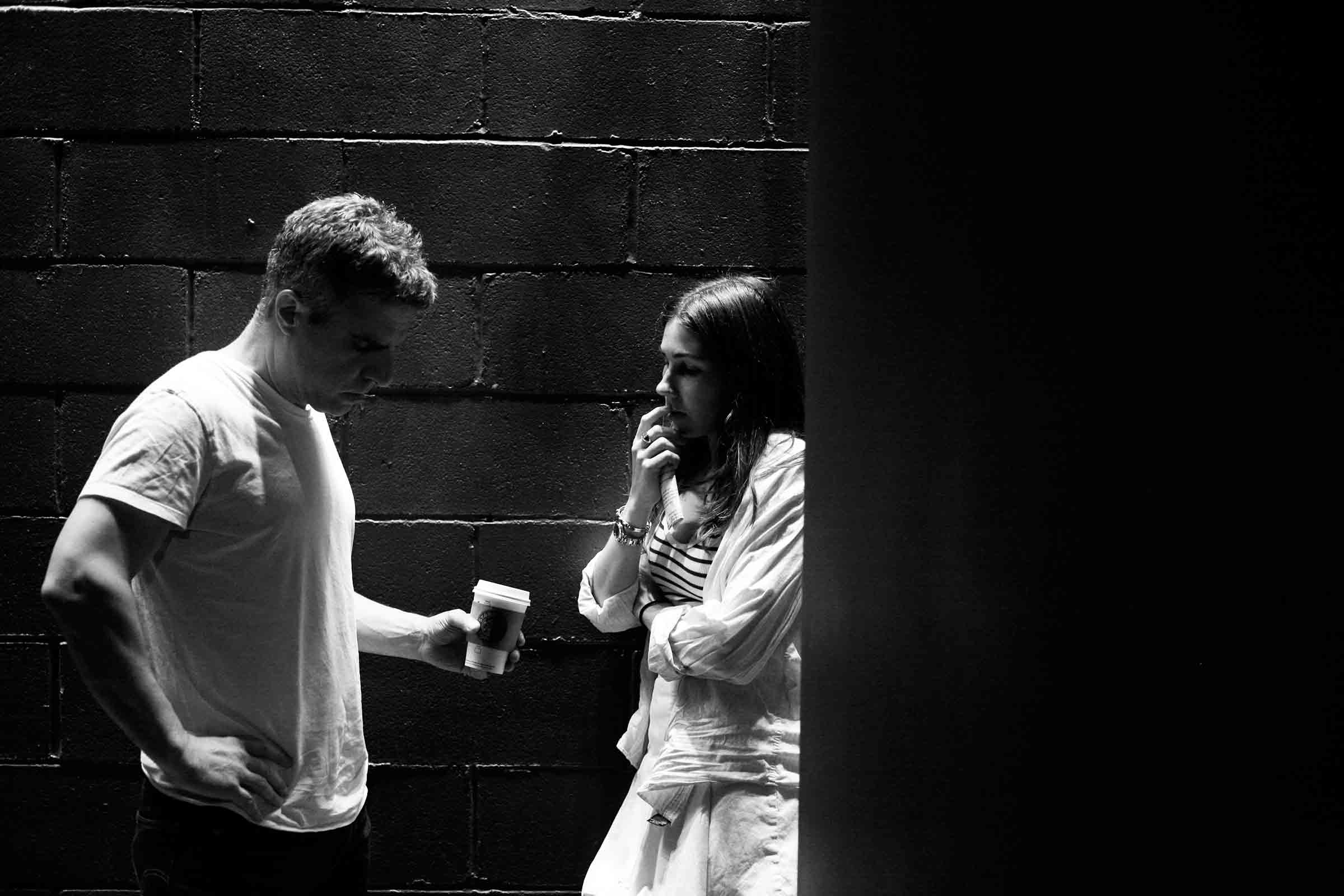 There are currently no open positions.
Play Submissions
Atlantic Theater Company accepts only solicited material, agent submissions, and work/proposals from its ensemble. Our season is comprised of four mainstage productions of new plays and revivals, and two second stage productions with an emphasis on new work. The season is complemented by a development series of readings and workshops, and we have an active commissioning program. In an effort to refocus our submissions policy, and attend to the large number of solicited scripts we received each season, we will no longer be accepting samples or inquiries. Playwrights are urged to consult The Dramatists Sourcebook and individual organizations' websites for complete information on submission policies at American theaters.
Fellowships
Fellowships are available in the following departments:
Stage Management
The Stage Management Fellowship Program is designed for early-career theater professionals who have chosen a career in stage management. Fellows will serve as assistants to the Equity Stage Manager and Assistant Stage Manager, interacting daily with all aspects of stage management for the duration of one full production. Throughout the rehearsal period, duties will include managing props, maintaining script updates, taking rehearsal notes, staying on book for actors, and giving line notes. Fellows will also attend production meetings and rehearsals and will work as running crew backstage during productions. The Program provides a stipend of $275 per week starting the week before rehearsals. Fellows will be able to take advantage of Atlantic's Internship program, which includes sit-down sessions with Atlantic staff, directors, writers, and designers. Some previous participants have continued the fellowship, working in the same capacity on a second Atlantic show. The Fellowship Program looks to offer more than the traditional P.A. employment opportunity, by involving the Fellow in the company as part of the extended Atlantic Family, and by investing in his or her training and career.
The Fellowship Program has a rolling application process.
Please send all cover letters and resumes to smfellow@atlantictheater.org. Indicate which production(s) you're available to participate in and you will be notified if we'd like to arrange an interview. Send updated resumes as necessary.
Production
This is an exciting opportunity for early-career individuals of all backgrounds to receive mentorship and compensation while gaining the practical, hands-on training necessary to launch a career in theatrical production or stage management. Applications are currently being accepted for Production Fellows with Fellowships available in Technical Production or Production Management.
During their time at Atlantic, each Fellow will complete full-time training at 35-40 hours per week. Technical Production Fellows and Production Management Fellows will work at our state-of-the-art Stage 2 theater under the supervision of Production Manager Ian Guzzone where they'll train in a wide variety of areas and disciplines.
In addition to hands-on training, each Fellow will receive dedicated mentorship from Atlantic staff. Fellows will also participate in seminars with theatrical designers and administrators, providing a big-picture look at the off-Broadway industry as well as valuable professional connections within the theater community. All Fellows will be compensated for their time at a rate of $15 per hour.
To apply, please send cover letters, and resumes to jobs@atlantictheater.org.
The deadline to apply for a spring internship is Friday, November 1.
The Atlantic Theater Company Internship Program provides aspiring theater professionals the opportunity to learn how a leading Off-Broadway theater and acting school operates. Each semester, we welcome interns to the Atlantic family, providing opportunities for mentorship from Atlantic staff and allowing interns to work closely with each team. In addition to getting to know the ins and outs of your specific department, there are weekly Intern Panels where interns will hear from each staff member to learn what goes into making Atlantic run, and bi-weekly Staff Meetings where interns will be able to hear what's happening across the organization as well as report on their own work. In addition, interns will be involved in special events at Atlantic, including opening nights.
Internships are generally held by undergraduate and graduate students, or recent college graduates. We offer college credit, tickets to all of the Atlantic Mainstage and Stage 2 performances, and complimentary tickets to certain Broadway and Off-Broadway shows. MetroCards are available for full time interns. Housing cannot be provided. Part time (20 hours/week min.) and full time applicants are welcomed.
To apply, please send a completed Internship Application Form, along with a cover letter, resume, and letter of recommendation to atlanticintern@atlantictheater.org.
Internships are available in the following departments:
Development
The Individual Giving and Special Events Intern works closely with the Manager of Individual Giving and Special Events. Interns assist in planning and execution of Atlantic events, including Opening nights, Patron dinners, and the Spring Gala, and have the opportunity to work on mail campaigns, donor research, and data entry. This position requires excellent communication skills, self-motivation, and an interest in learning about the creative thinking that goes behind fundraising from individuals.
The Institutional Giving Intern works closely with the Director of Institutional Giving to research potential funders and develop proposal language. The intern also participates in weekly funding strategy meetings and takes a lead role in analyzing the impact of Atlantic's artistic and education initiatives – providing direct insight into the inner workings of a large off-Broadway company. This position requires excellent communication skills, self-motivation, and an interest in learning about the creative thinking that goes behind fundraising from foundations, corporations, and government agencies.
General Management and Finance
Reporting to the General Management and Finance departments, the General Management and Finance Intern will assist in the general management activities of the producing season and the business operations of the organization. With General Management, the intern will be involved with maintaining contractual union obligations, box office, front of house management and other tasks related to current and upcoming productions. The intern will also work with the Finance department on administrative tasks, such as vendor management and communication, financial analysis projects, maintaining expense accounts, and the preparation of the annual audit. This internship affords the right candidate an opportunity to participate in multiple aspects of theater management and is ideal for those interested in pursuing company management or arts administration professionally. Superb organizational skills, an excellent attention to detail, and knowledge of Excel are necessary. This internship can be either full or part-time.
Literary
The Literary Intern works under the Associate Artistic Director and Director of New Play Development and is involved with reading and evaluating plays, researching the current theatrical landscape, maintaining the script database, assisting with readings, archiving, and other administrative tasks. Candidates should have a strong interest in the area of literary management and dramaturgy. Applicants who are current college students, post-college, or graduate students will be considered.
Operations
The Operations Intern works closely with a fast-paced team, reporting directly to the Operations Manager. Responding effectively to the unexpected is a key element of this department. Interns are involved in long and short-term projects related to every aspect of how both the theater company and the school operate. This position brings new challenges every day and offers a broad set of experiences with the inner workings of a theater company. Applicants should have a love of theater, an attention to detail, and willingness to accept any challenge. The ability to think on your feet in an organized and judicial manner is critical to this position. Comfort around tools preferred, computer proficiency required. Part-time or full-time applicants considered.
Production, Departmental: Costumes, Props, Scenic/TD, Lighting, Sound, etc. (Linda Gross Theater & Stage 2)
Departmental Interns report to the Production Manager and Department head (Costumes, Props, Scenic/TD, Lighting, Sound/Video). Positions are based on the current show's needs and production schedule. The applicants should be well versed in their area of interest and will to be hands on. Intern come on board during the pre-production process through opening. Applicants should be well organized, strong interest in their application, and ready for hands on production internship. Applicants must be versed in internet usage, excel and word.
School Education
The School Education Intern works closely with the Education team at Atlantic in a variety of programs. Responsibilities are specific to each program assignment. In Staging Success (https://atlantictheater.org/education-at-atlantic/staging-success/), interns assist and trail Teaching Artists, helping to facilitate the on-site administrative needs of our partner schools and teaching team. In the student matinee series (https://atlantictheater.org/education-at-atlantic/student-matinees/), interns assist in the research, development, and editing of our study guides, trail teaching artists on in-school pre-theater visits, and assist in day-of student matinee logistics. The School Education Intern assists our afterschool and weekend classes, as well as summer camp Teaching Artists in preparing rosters, performance materials, classroom supplies, and supports in-class activities. Ideal for an organized, upbeat personality with a sense of play who is detail-oriented and can go with the flow. Solid computer and social networking skills desired. Offered during the Spring, Summer and Fall semesters.
Stage 2 Design
The Stage 2 Design Intern reports directly to the Production Manager of Stage 2. This position requires the applicant to assist the Stage 2 Production Manager in all tasks related to the design of all Atlantic Acting School Stage 2 shows, including but not limited to: sourcing and building props, assisting the designer wherever they may need help, attending all tech rehearsals and helping with light hangs/focus, and taking notes from designers. Offered during the Spring and Fall semesters.
Executive
The Executive Intern reports directly to the Executive Assistant to the Artistic and Managing Directors. The intern helps manage the day-to-day schedule, correspondence and needs of the leadership of the Atlantic. This internship position is comparable to being a second assistant to the Managing Director and the Artistic Director who oversee all aspects of the Atlantic's operation. This internship offers a comprehensive look at how a theater company runs from programming to finance to board and ensemble relations. The Executive Intern in addition works with the Executive Assistant to manage the internship program, preparation for opening nights and the Spring Gala, quarterly Board Meetings, and other events as needed. Candidates should be prepared for a fast paced, high volume internship, and a comprehensive look at how an Off-Broadway theater office runs.
Graphic Design
The Graphic Design Intern is responsible for helping with all daily design tasks for Atlantic Theater Company and Atlantic Acting School. The intern will report directly to the Graphic Designer and will work closely with the Marketing team for the Theater and the Acting School. Among various responsibilities, the intern will – under supervision of the Graphic Designer – use design templates and company branding guidelines to create web graphics and gifs for productions, programs, and classes; in-house materials such as party passes, signs, and invitations; and elements of brochures, production playbills, and advertisements. The right intern candidate will have fluency in the Adobe suite, an ability to work in a fast-paced environment, a passion for theater and education, and an interest in learning about the structure and creative thinking involved in in-house design.
Marketing
The Marketing Intern will report to the Marketing & Membership Associate and the School Marketing Manager, and works closely with the Director of Marketing. This intern's primary role will be to assist the Theater and School's marketing department with all promotional activity, both institutional and show/program-specific. Responsibilities may include marketing research, press and cross-promotional outreach, membership maintenance, social media marketing, audience development, recruitment and current student engagement efforts, tracking and analytics, and website maintenance. The intern will also be expected to assist with event planning and day-of event needs from both the theater and the school. The ideal candidate will be a creative problem solver, have a passion for the creative process, strong organizational skills and impeccable attention to detail. Experience with Adobe Creative Suite, WordPress, Events, and Mailchimp a plus. An interest in theater administration either in marketing or advertising is preferred.
Production Management (Linda Gross Theater & Stage 2)
The Production Management Intern reports directly to the Production Manager. The intern will assist the Production Department in day to day operations of the production office including, but not limited to: researching technical aspects of each production, purchasing and invoicing, pre-production scheduling, and supporting rehearsals as needed. The Production Management intern will have hands on experience working closely with directors, designers, stage managers, and crew of each main stage production. Applicants should be well organized, interested in the coordination and maintenance of all production elements, and ready for a hands on production internship. A strong knowledge of technical theater or production management is required. Applicants must be versed in internet usage, excel and word. This internship is a full time position.
School Artistic
The School Artistic Intern will report to and assist the Artistic Director and the Associate Producer of the Atlantic Acting School in all aspects of producing a season of student productions including 3-4 full length productions and several evenings of one-act plays performed by students from both the NYU Tisch undergraduate and Conservatory programs. Additionally, this intern will support the school staff in producing the Atlantic for Kids show; a Theater for Young Audiences piece performed as a part of the Atlantic's Mainstage season. Responsibilities include, but are not limited to: monitoring auditions and assisting in production casting, scheduling and reserving space, and programming for future seasons among other administrative tasks. Duties may also entail drafting faculty and parent correspondence, compiling information for publicity materials and programs, managing ticket reservations, and organizing opening night events. Excellent experience for those interested in producing positions within upstart performing arts organizations. This position is well suited for an individual who would like exposure to many differing facets of production and who feels comfortable multi-tasking and managing several projects simultaneously. Offered during the Spring and Fall semesters.
School Administration
The School Administration Interns works closely with the school directors to assist with administration for our undergrad NYU, Professional Conservatory and part-time programming. Gain hands on experience in the practical and curricular elements of a theater school's development, marketing, recruitment and administration. Responsibilities include doing research, preparing material for faculty meetings and orientations, organizing student evaluations and grade-collecting software, maintaining student database, reaching out to alumni, assisting with guest classes and end-of-term receptions and preparing content for website. Ideal for a sharp, extremely organized, detail-oriented person who can go with the flow and has a passion for arts education administration. Solid computer (especially Excel and Google Documents) and social networking skills desired. Offered during the Spring, Summer and Fall semesters.
Ushers
We are not accepting volunteer ushers at this time.