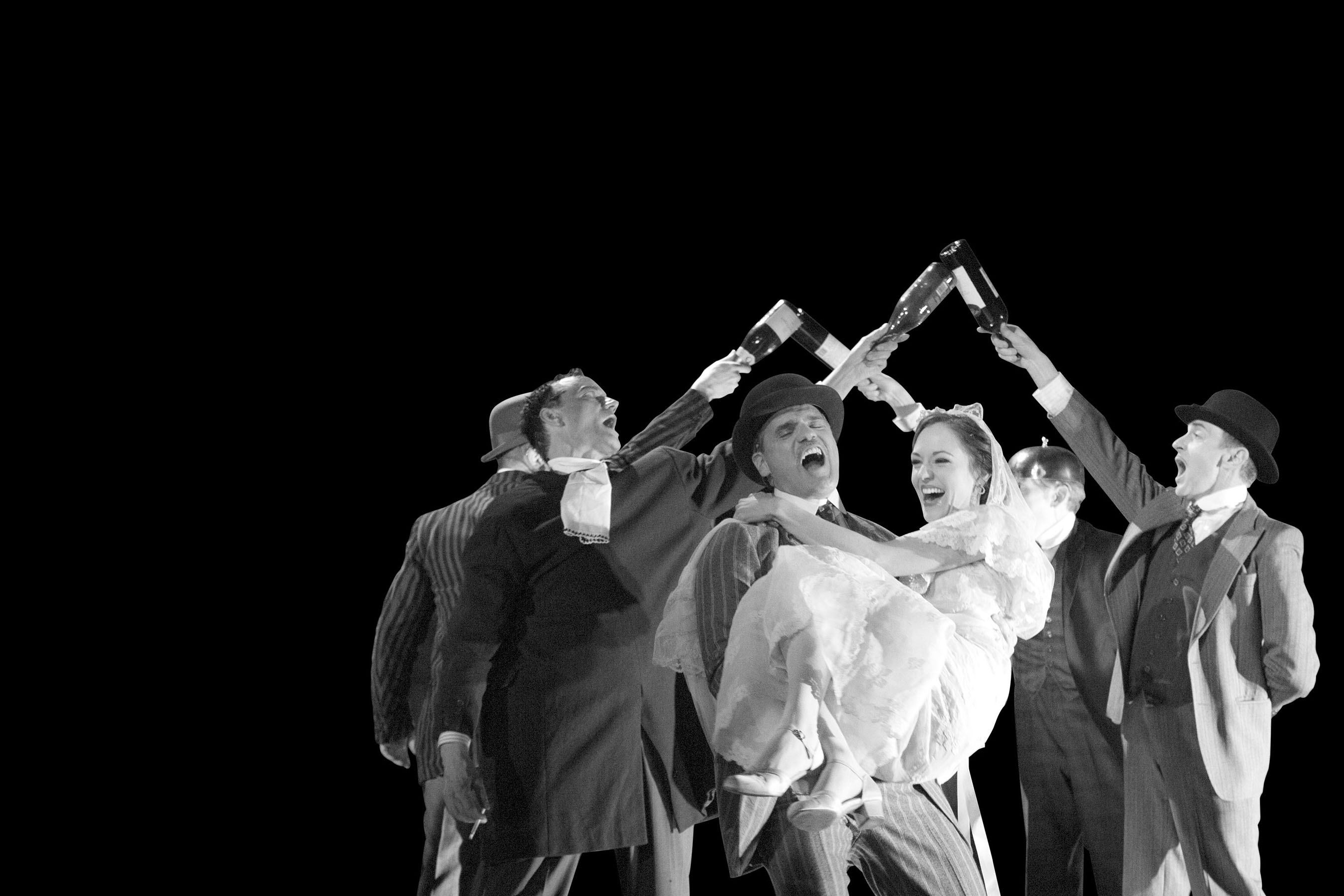 The Threepenny Opera
books & lyrics by BERTOLT BRECHT
music by KURT WEILL
English adaptation by MARC BLITZSTEIN
directed & choreographed by MARTHA CLARKE
Linda Gross Theater

March 12 – May 11, 2014
Inspired by the art, style and sensuality of Weimar Berlin, legendary director and choreographer Martha Clarke joins forces with Atlantic to breathe new life into the original Marc Blitzstein translation, which premiered in 1954 at the Theatre de Lys, now the Lucille Lortel Theatre.
More Info
Threepenny follows the charismatic scoundrel Macheath and his exploits in 19th century London. In this "opera for beggars," an assortment of characters maneuver for advantage, revealing a profoundly corrupt society and asking the question: Must one be a criminal to survive in this world?
THE THREEPENNY OPERA is presented through special arrangement with R&H Theatricals: www.rnh.com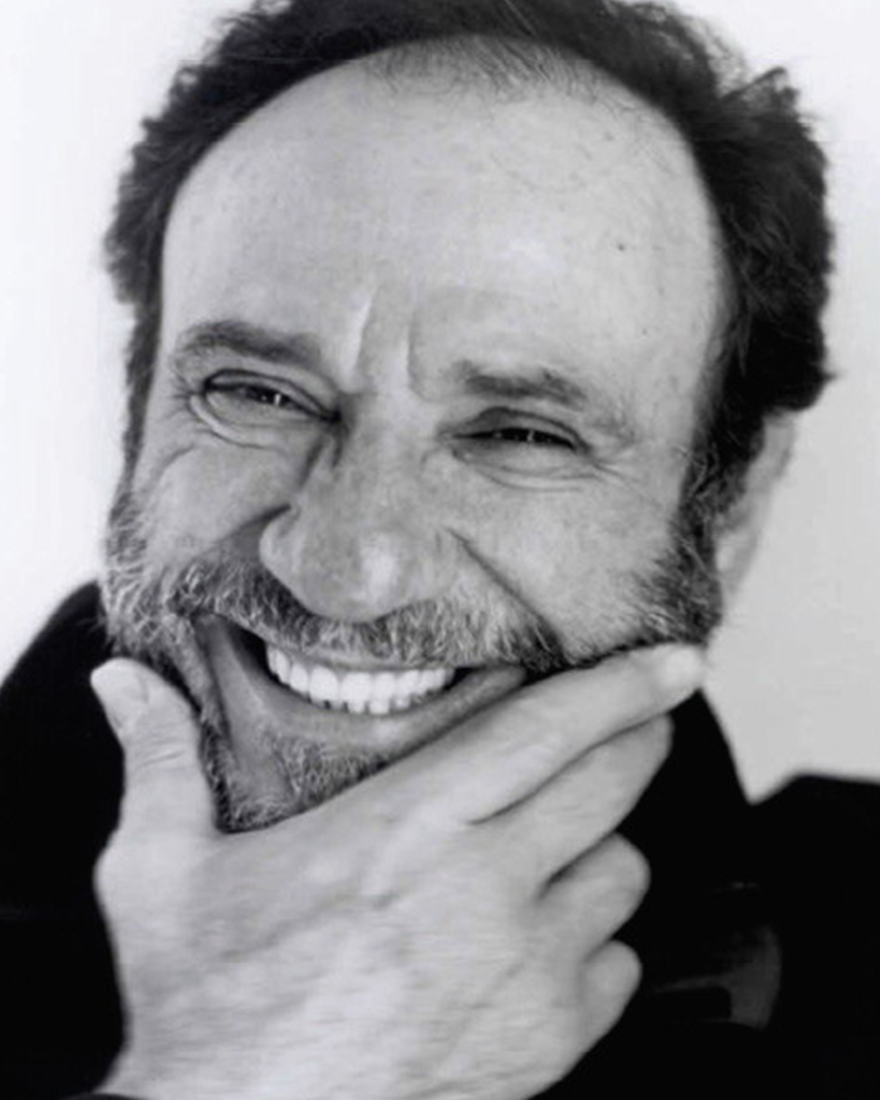 F. Murray Abraham
Mr. Peachum
F. MURRAY ABRAHAM returns to Atlantic after starring in the world premieres of Ethan Coen's Almost An Evening and Offices. NYC debut, Macy's Santa: plays from the Greeks to Shakespeare to experimental work with Chaiken, Forman, Bausch, Serban, Time and Space. Recent films, "Inside Llewyn Davis" and "The Grand Budapest Hotel." Television: "Homeland," "The Good Wife," "Louis CK." Awards: Golden Globe, Academy Award, two Obie Awards, Gielgud Award and the Moscow Art Theatre Medal of Excellence presented to him on Stanislavski's 150th birthday; book on MIdsummer NIght's Dream (Faber&Faber); narrator for PBS Series, Nature. He was a featured soloist with the Prague orchestra last season and will soon appear with The Pittsburgh Symphony at Carnegie Hall. Thanks Janet Goldbaum and Elena Gorokhova.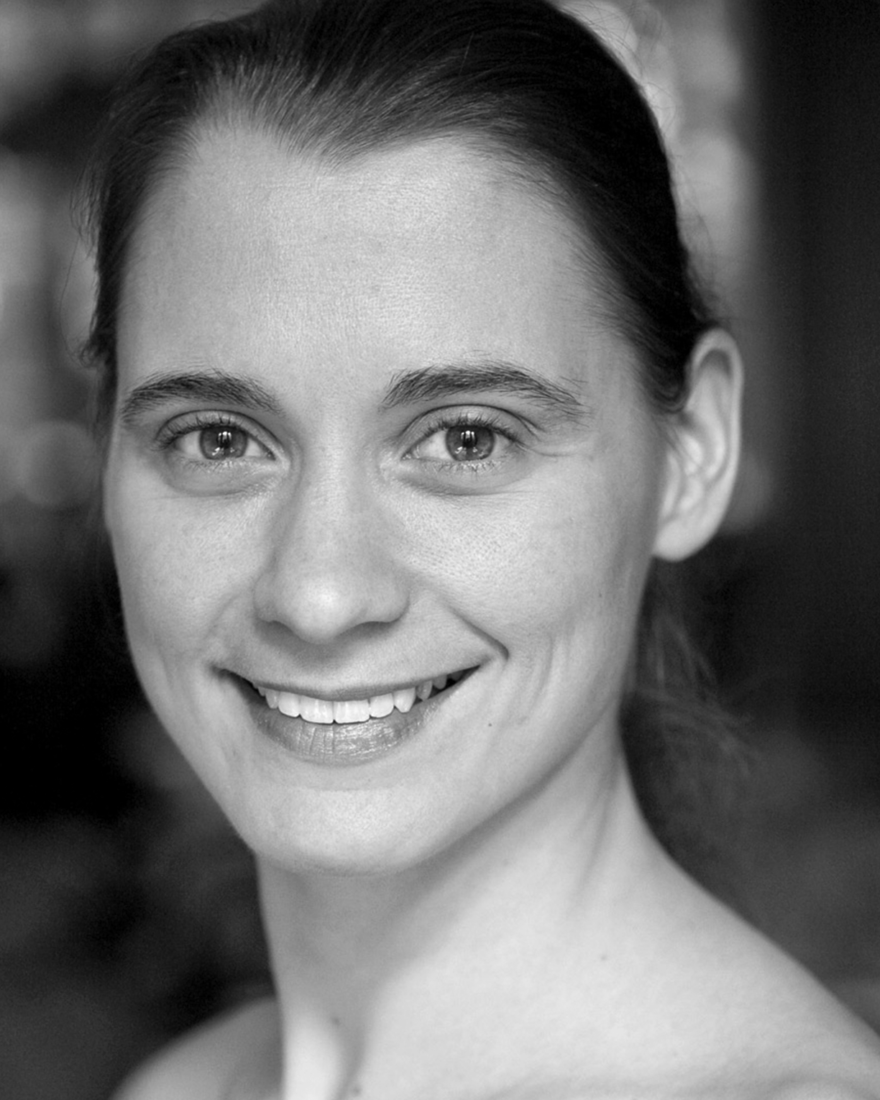 Sophie Bortolussi
Ensemble, Dance Captain
SOPHIE BORTOLUSSI. Theatre: The Drowned Man: A Hollywood Fable (National Theater, London), Lady Macbeth in Sleep No More (NYC), Virginia Poe in Red-Eye to Havre de Grace (Philadelphia, Boston). Other theatre: Kaos (NYTW) Dance: Eve: Garden of Earthly Delights (Minetta Lane Theatre). Other dance: Angel Reapers (Joyce Theatre/ National tour), Friction (Dance Theatre Workshop), Nu Dance Theater, The Martha Graham Dance Company, Drastic Action, AMDaT. Director: The Day Shall Declare It (London) TV: guest appearance "Gossip Girl." Awards: 2013 UK Broadway World Award nomination for Best leading actress in a new production of a play. 2011 World Falstaff Award, Best Principal Performance, Lady Macbeth, Sleep No More.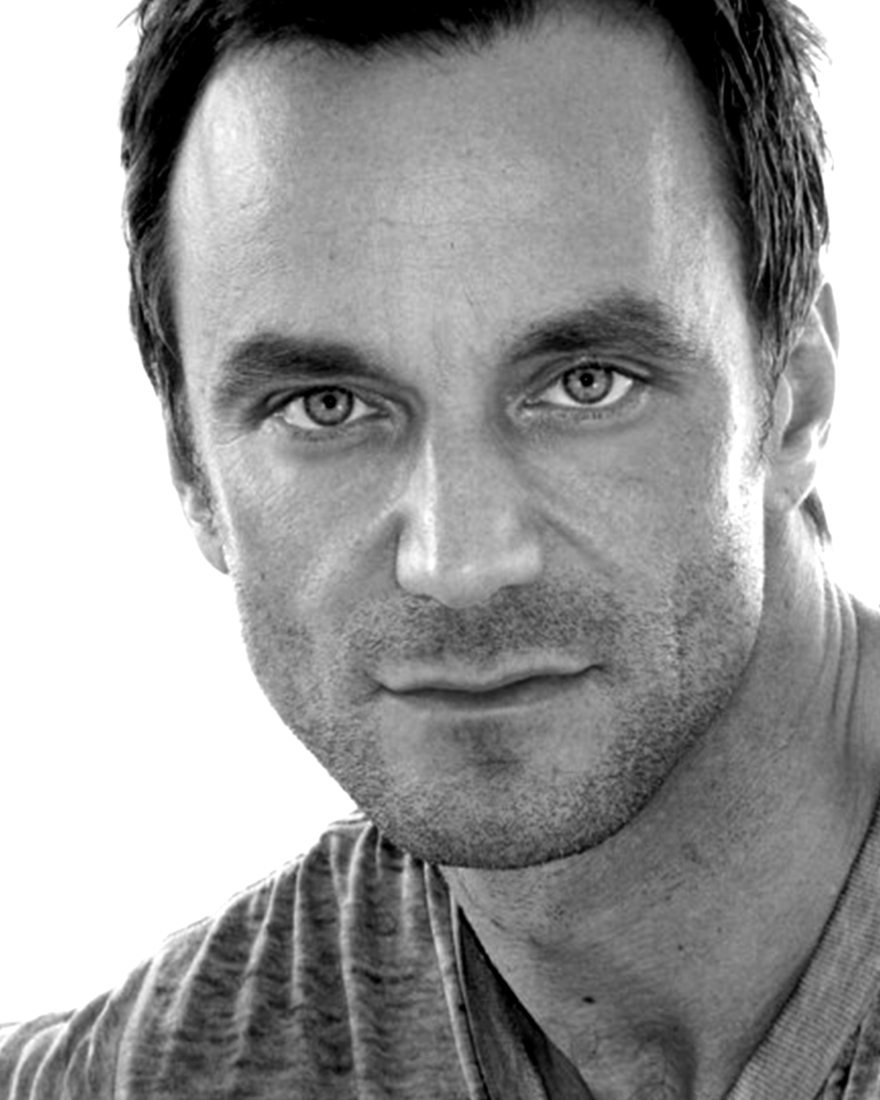 Jon David Casey
Ensemble
JON DAVID CASEY. Theater: Zerlina's Tale with Elizabeth Ashley (Hartford Stage) director Michael Wilson; King Lear (Center Stage), director Irene Lewis, A Perfect Wedding (Kirk Douglas Theater) director Gordon Davidson; The Lion in Winter (Cleveland Playhouse) director Jack Hofsiss; Peach Blossom Fan (REDCAT) director Chen Shi-Zheng; Danton's Death (Alley Theatre) director Robert Wilson. Other theater includes American Repertory Theater, The Market Theatre, Huntington Theatre, Pittsburgh Public, Theater Offensive, Evidence Room (LA), The Actor's Gang (LA). Film: Star Trek: First Contact, It's My Party, Day Zero, Orphan Killer. Television: "Numb3rs," "Medium," "NYPD Blue, "Lazarus Man," "Pacific Blue, "V.I.P," "Martial Law," "New York News." Jon David has made several works for performance, including his newest work, Accumulator developed at REDCAT, Dixon place and Abron's Art Center.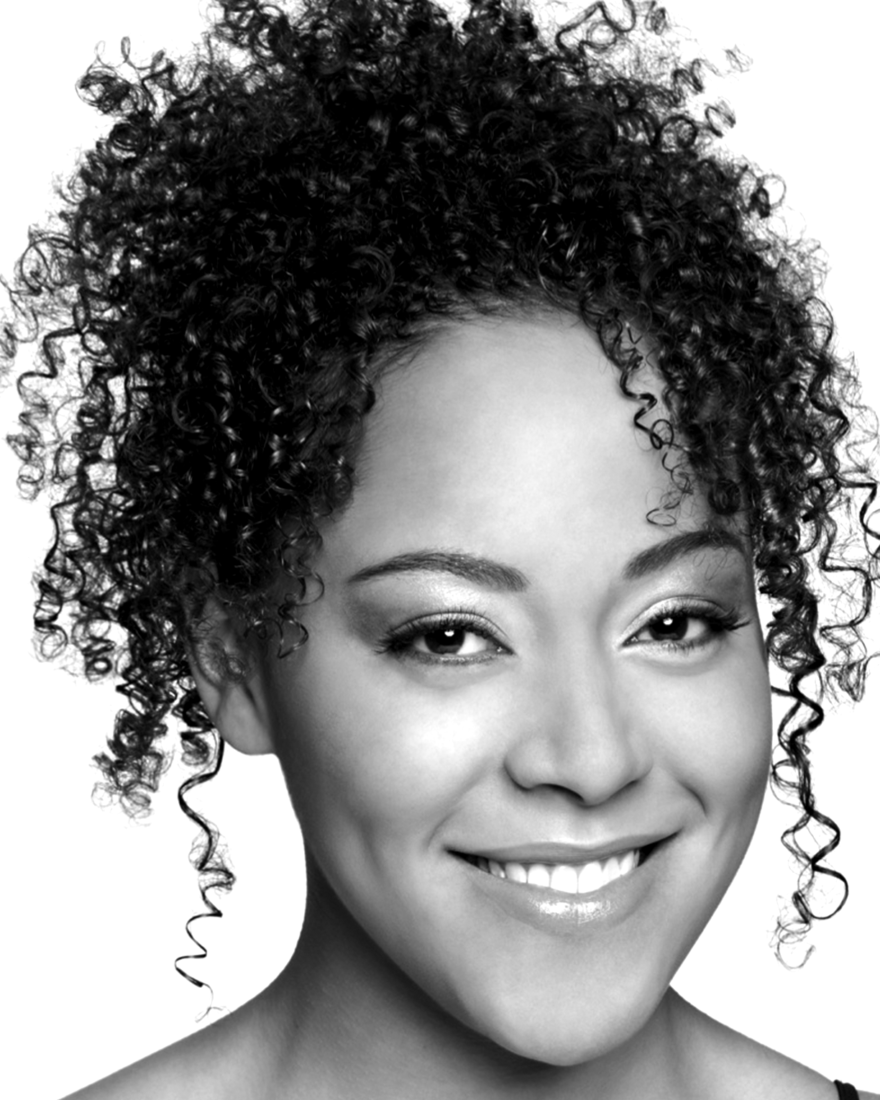 Lilli Cooper
Lucy Brown
LILLI COOPER. Atlantic: Spring Awakening ("Martha"). Broadway/National tours: Spring Awakening (Original Broadway Cast), Wicked ("Elphaba" u/s). Favorite theater credits: LMNOP (Goodspeed's Norma Terris), Independents (New York Times' Critics' Pick), Skin of Our Teeth, Reasons to Be Pretty. A Vassar College grad, Cooper was born and raised in NYC and made her Broadway debut at age 16. She is thrilled to be back at the beautifully renovated Linda Gross Theater, which feels like home. Huge thanks to the Atlantic Family, Martha, and everyone at Telsey + Co.! Twitter.com/Lillicooper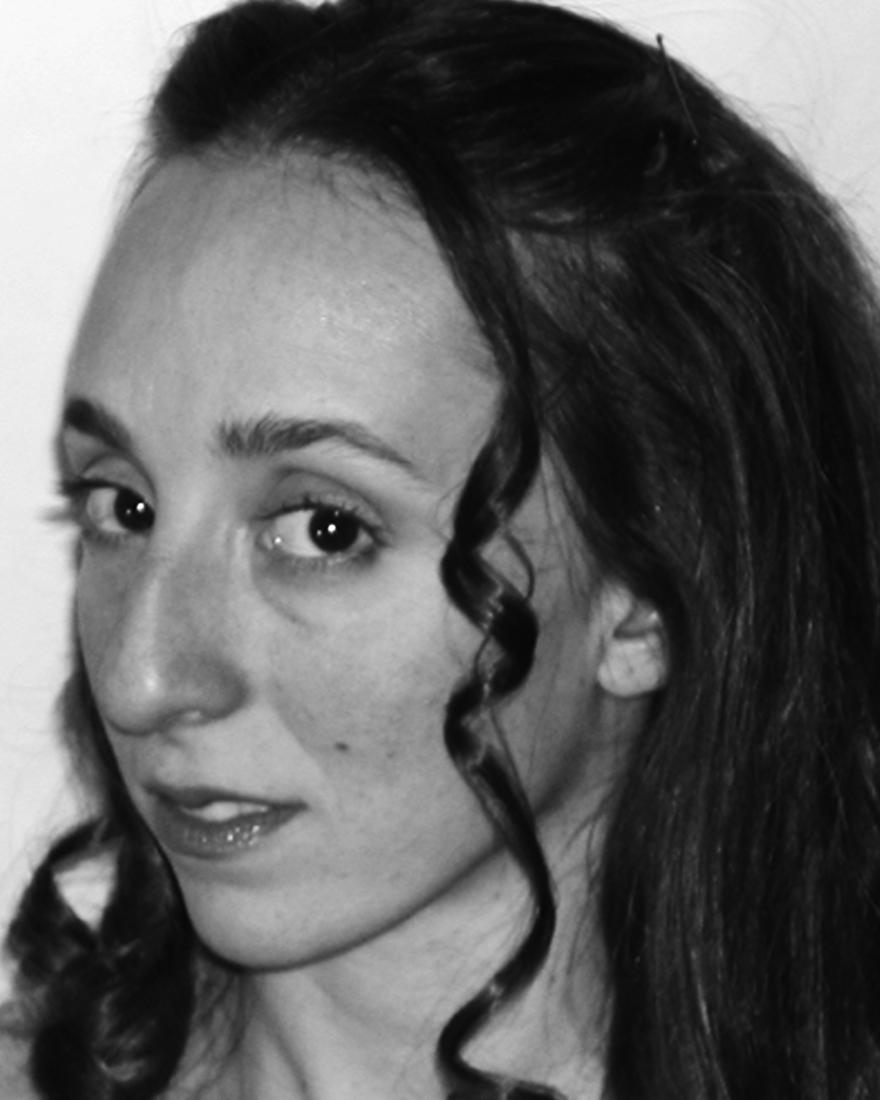 Lindsey Dietz-Marchant
Ensemble
LINDSEY DIETZ-MARCHANT. NYC freelance dance artist since 1998, currently performing Third Rails Project's Then She Fell (Bessie Award 2013), performed with 30+ choreographers/companies including Palissimo, Martha Clarke, Doug Elkins, Kate Weare, Tami Stronach, Aszure Barton, Monica Bill Barnes, Ursula Eagly, Elena Demyanenko. Lindsey's award-winning choreography includes commissions (Danspace Project, Music-Theater Group, Harkness Dance Center, Dance New Amsterdam) touring internationally from Russia to Australia. Teaching includes Bennington, NYU, Princeton, Marymount Manhattan, University of Iowa, University of Michigan, SUNY Purchase, University New South Wales-Australia, Chunky Move-Australia, Movement Research-NYC. Lindsey currently independently produces individual dance artists and held curatorial positions at The Chocolate Factory and Dance New Amsterdam. www.dietzmarchant.com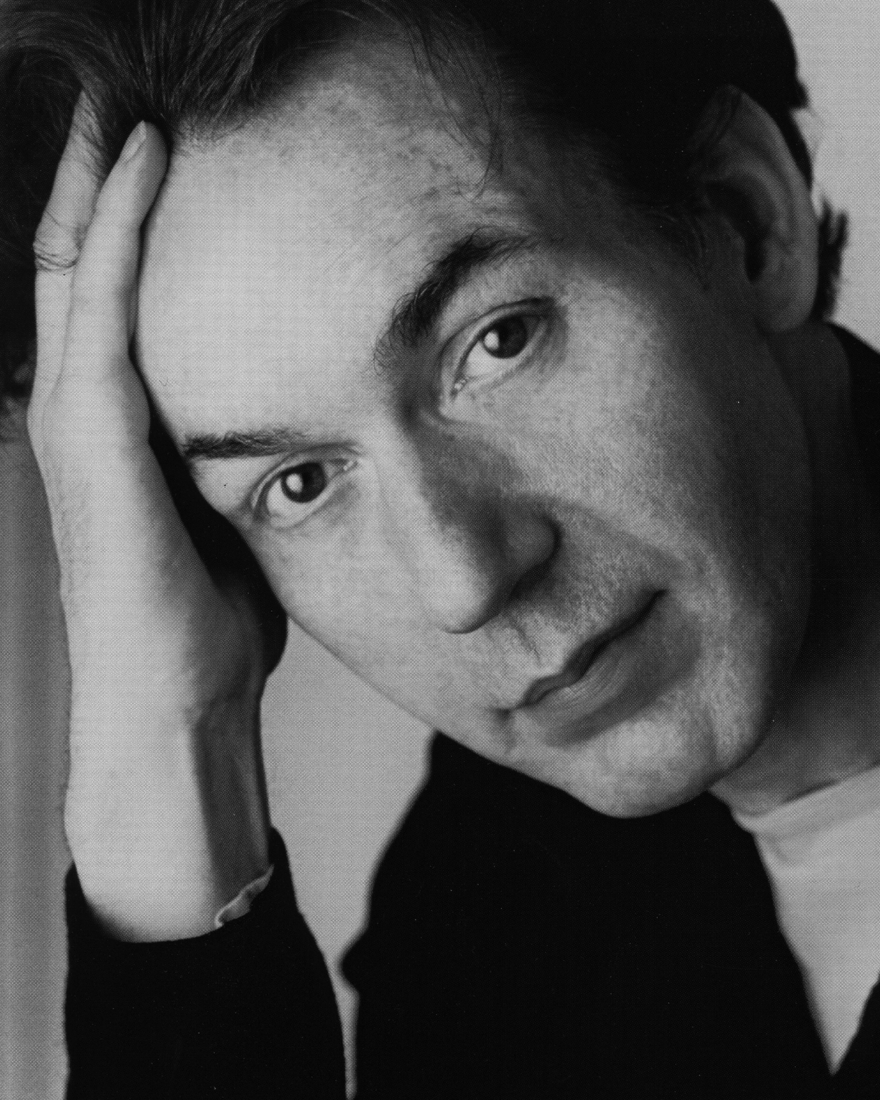 Timothy Doyle
Ensemble
TIMOTHY DOYLE. Broadway: Fortune's Fool (dir. Arthur Penn), Salomé (dir. Estelle Parsons), Peter Pan. Off-Broadway:The Beard of Avon, Vienna: Lusthaus, Oedipus the King (w/ Al Pacino), The Radiant, Fear Itself, Three Valises: Schrodinger's Cat, Someone Who'll Watch Over Me, Love's Labour's Lost, The Rivals, Stage Door, The Unexpected Guest, The Infernal Machine. Regional: Cosi fan Tutte, Land of Dreams, Caligula, Six Characters in Search of an Author, Summer and Smoke. Film: Please Give; Synecdoche,N.Y.; Illuminata; Lucky Days; Best Served Cold; A Fish Called Wanda; The Needs of Kim Stanley (forthcoming documentary). Television: "Orange is the New Black," "Law & Order: SVU," " Law & Order: Criminal Intent," "Law & Order," "Third Watch," "All My Children," "The Needs of Kim Stanley" (forthcoming documentary).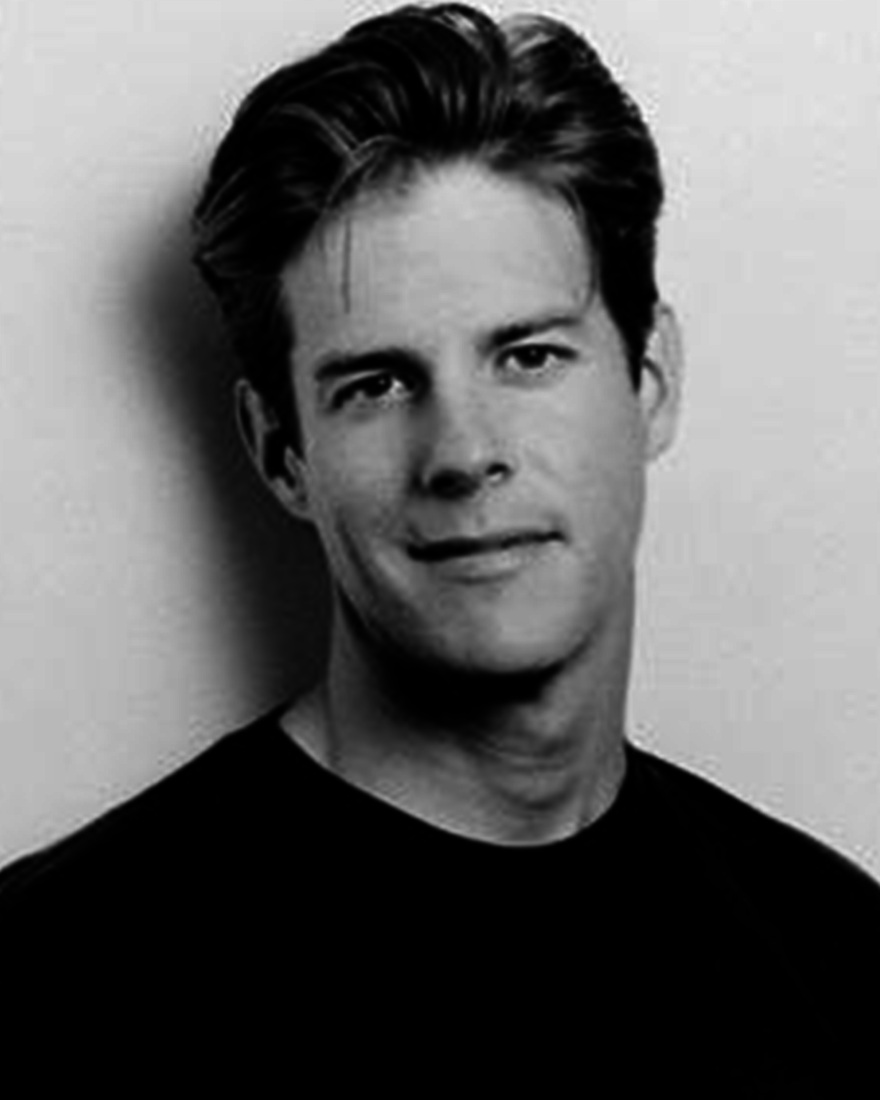 Rick Holmes
Tiger Brown
RICK HOLMES. Broadway: Peter and the Starcatcher, Spamalot,The Pillowman, Cabaret, Major Barbara, The Deep Blue Sea, Timon of Athens,Saint Joan, The Government Inspector. Off-Broadway: Peter and the Starcatcher (Black Stache), The School for Lies, The New York Idea, Distracted, Stop Kiss, Dog Opera, Christina Alberta's Father, Othello, The Tragedy of Richard III. TV: "Elementary," "The Good Wife," "Law & Order: Criminal Intent," "Law & Order: Special Victims Unit," "Law & Order". Regional: Arena Stage, Hartford Stage, Huntington Theater, Williamstown Theater Festival.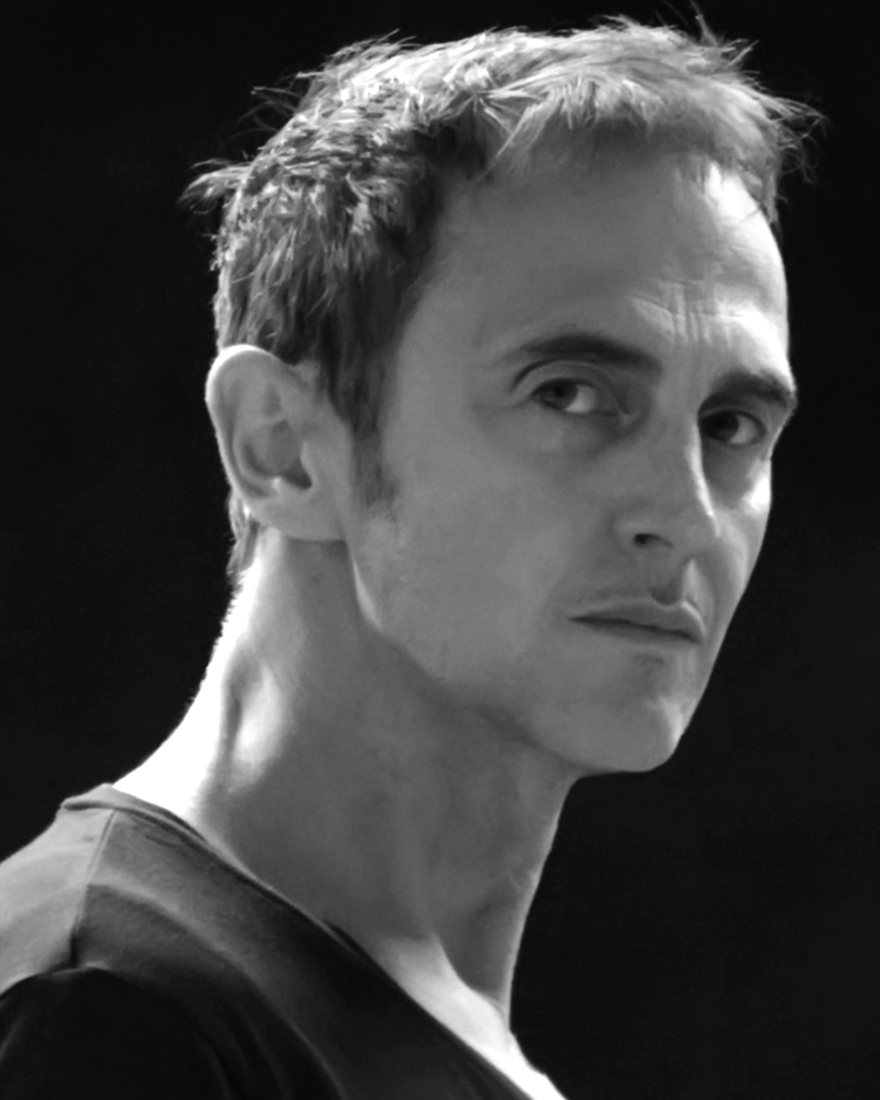 John Kelly
Street Singer/Filch
JOHN KELLY. Acting credits include the Broadway production of James Joyce's The Dead (Bartell D'Arcy); David Little's opera Dog Days (Prince); Dido; Queen of Carthage (Cupid; Eliot Norton Best Actor Award), at A.R.T.; Rinde Eckert's Orpheus X (Jon/Persephone) at A.R.T. & TFANA; The Clerk's Tale (Spencer Reese), a film by James Franco; and various works by John Cage, David Gordon, John Jesurun, and Martha Clarke. For his work as performance artist he has received a USA Artist Award Fellowship; 2 NEA American Masterpieces Awards; 2 Obie Awards; and a Guggenheim Fellowship. Residencies include The Radcliffe Institute for Advanced Study, The Sundance Theatre Institute, and The American Academy in Rome.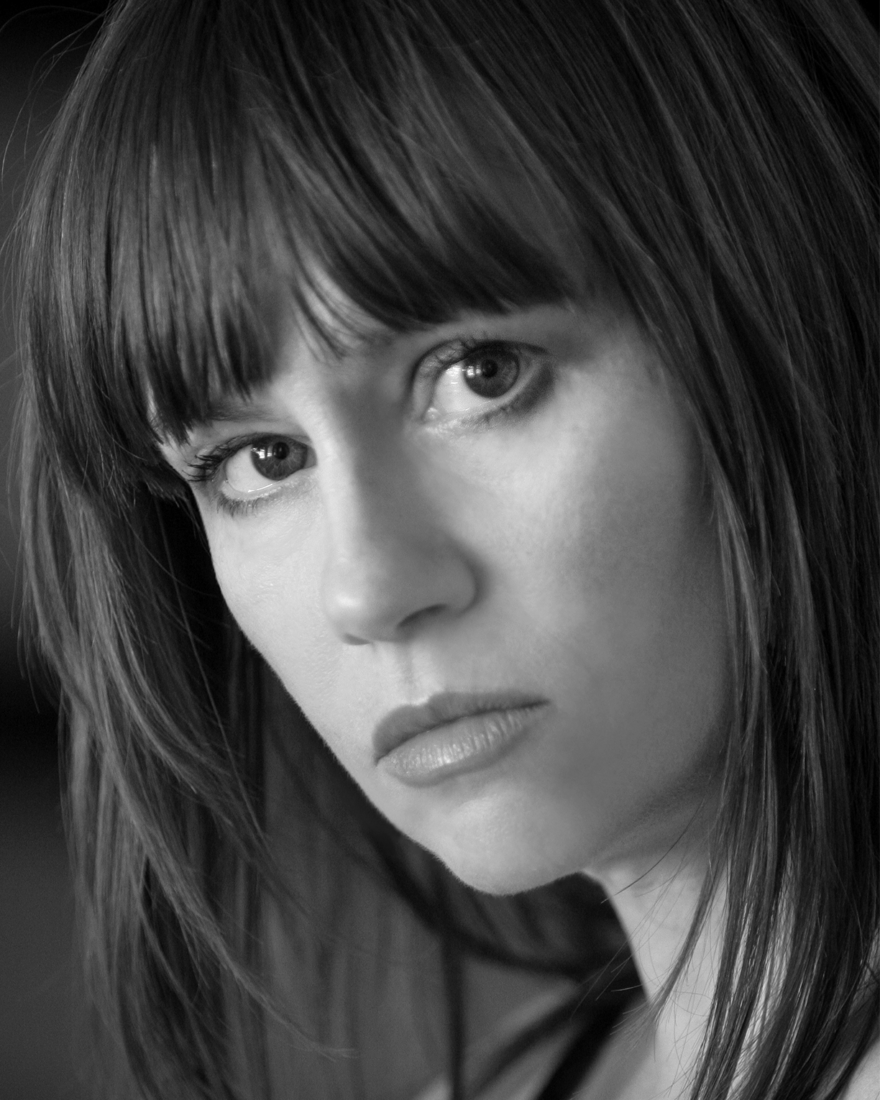 Sally Murphy
Jenny
SALLY MURPHY. Broadway: August: Osage County (also London, Sydney), Fiddler on the Roof, The Wild Party, Carousel, The Grapes of Wrath (also London). Selected Off-Broadway: The Apple Family Plays: That Hopey Changey Thing, Sweet and Sad, Sorry and Regular Singing (The Public); Bernarda Alba, A Man of No Importance (Lincoln Center); Brutal Imagination (Vineyard). City Center Encores!: A Tree Grows in Brooklyn. Steppenwolf Theatre Company: 20-year member. Selected appearances: Sex With Strangers, Time Stands Still, The Crucible, Uncle Vanya, Mother Courage, The Royal Family, Skylight and The Common Pursuit. Selected film: Pollock, Scent of a Woman, Fearless, Prelude to a Kiss. TV: "The Good Wife," "Mob Doctor," "If These Walls Could Talk," PBS' Great Performances, American Playhouse. Cast albums: Carousel, The Wild Party, Fiddler on the Roof, A Man of No Importance, Bernarda Alba. Graduate of Northwestern University.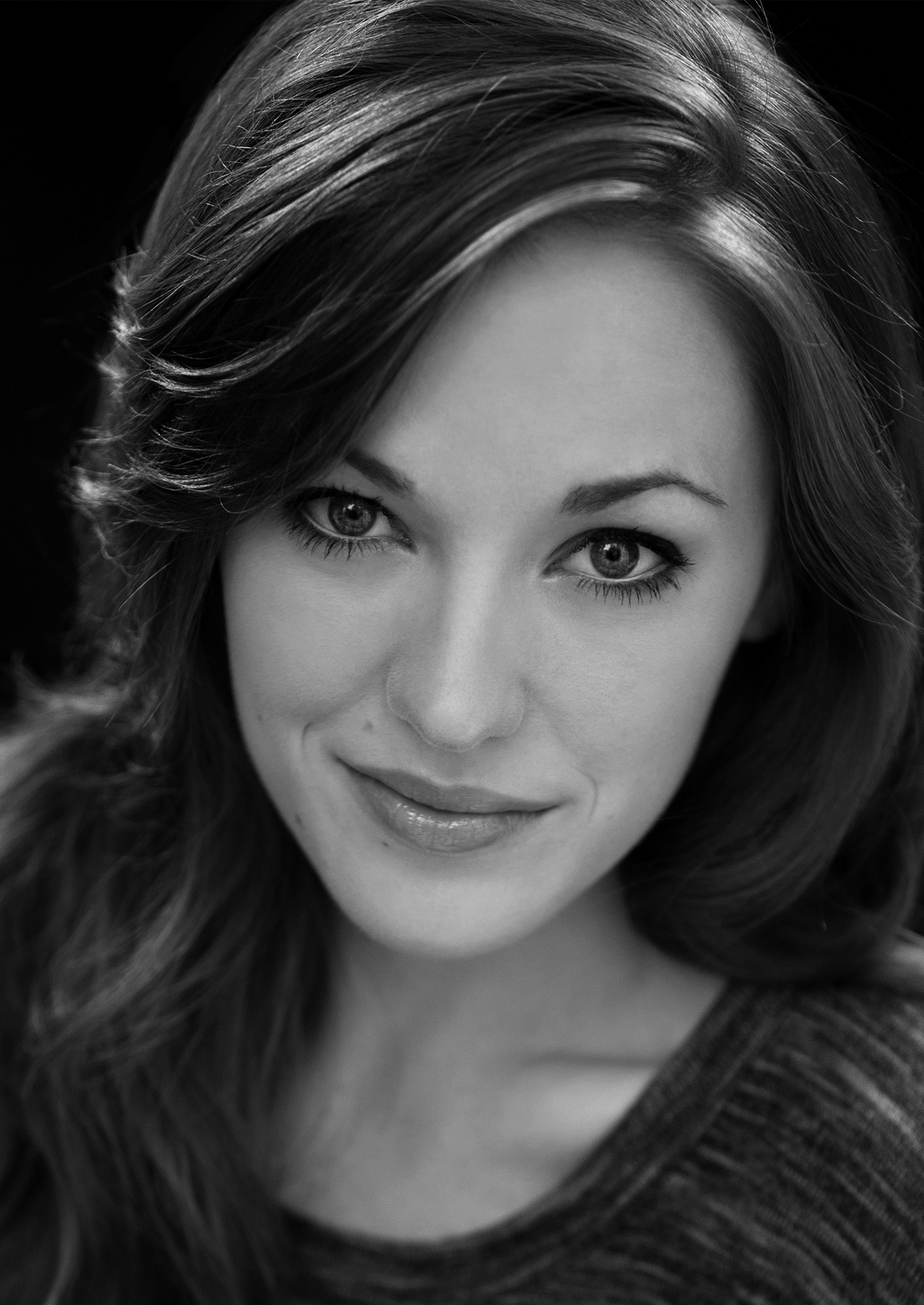 Laura Osnes
Polly Peachum
LAURA OSNES. Broadway: Rodgers & Hammerstein's Cinderella (Drama Desk Award; Tony, Outer Critics Circle, Astaire, and Drama League Award nominations), Bonnie & Clyde (Tony nom), Anything Goes (DD, OCC, and Astaire noms), South Pacific and Grease. NYC: Pipe Dream (Encores!), The Sound Of Music (Carnegie Hall). Television: "Elementary," "Six By Sondheim," HBO's pilot "The Miraculous Year," "Sondheim: The Birthday Concert" at Avery Fisher Hall, the Kennedy Center Honors salute to Barbara Cook (2011) and Dustin Hoffman (2012). In addition to being heard on several cast recordings, Osnes also has two solo albums: Dream A Little Dream: Live At The Carlyle and If I Tell You: The Songs of Maury Yeston.
Michael Park
Macheath
MICHAEL PARK is thrilled to be making his Atlantic Theater Company debut. Broadway: Cat on a Hot Tin Roof (Gooper), How to Succeed in Business Without Really Trying (Mr. Bratt), Carousel (Billy), Smokey Joe's Cafe (Original Cast) and Little Me (Lucky). Off-Broadway work includes Hello Again (Lincoln Center), Violet, The Burnt Part Boys (Playwrights Horizons), Bloomer Girl, Applause (City Center Encores!), Middletown (Vineyard Theatre). Michael is best known for his work as Jack Snyder on "As the World Turns," for which he received two consecutive Emmy Awards for Outstanding Lead Actor in a Drama Series. He recently appeared on NBC's television broadcast of "The Sound of Music Live!" and will play "Curtis Haas" in the upcoming season of "House of Cards."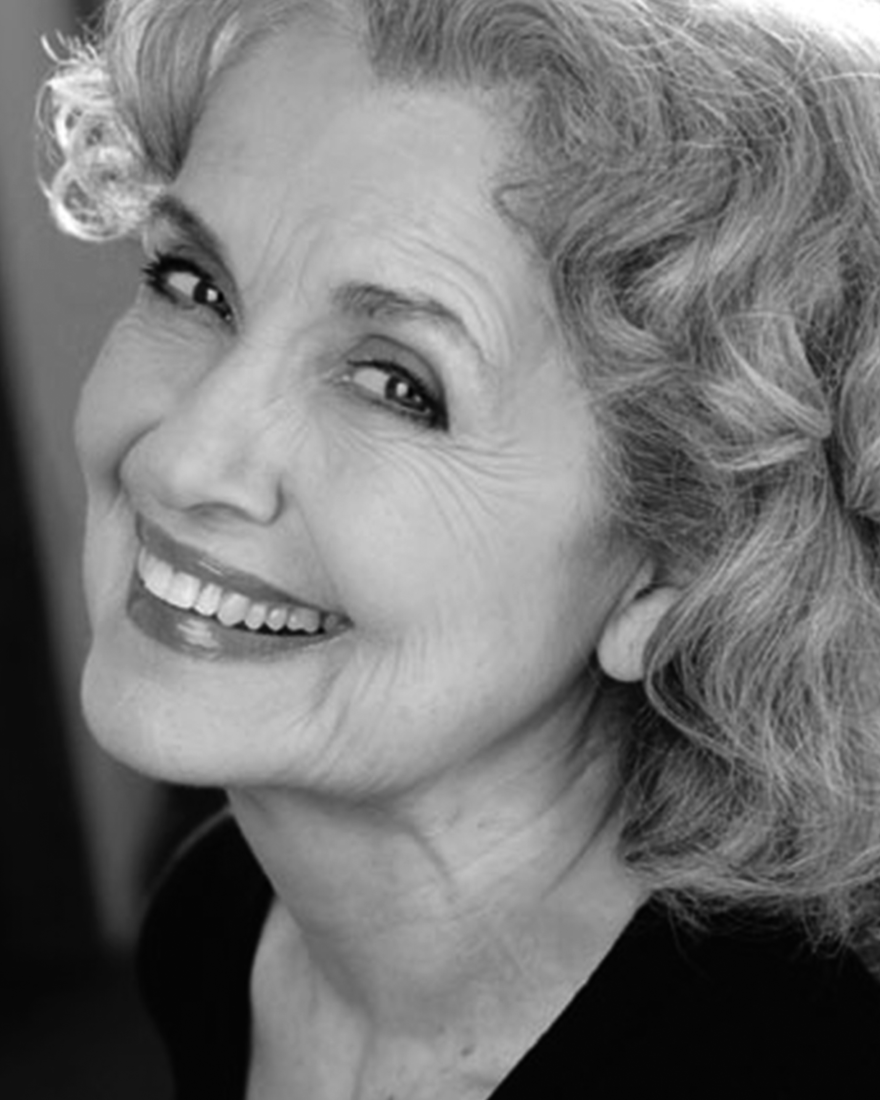 Mary Beth Peil
Mrs. Peachum
MARY BETH PEIL. Atlantic Theater Company Member. Atlantic: Harper Regan, The Room, Frame 312 and Missing Persons (Obie Award). Broadway: Follies, Women on the Verge of a Nervous Breakdown, Sunday in the Park with George, Nine (Outer Critics Circle nomination), The King and I opposite Yul Brynner (Tony Award nomination). Off-Broadway: Domesticated (LCT), The Morini Strad (Primary Stages), Hedda Gabller (NYTW), First Lady Suite (Transport Group), As Thousands Cheer (Drama Dept), A Cheever Evening (Obie, Playwrights Horizons), Sylvia (MTC), Finding the Sun (Signature). Regional: His Girl Friday (La Jolla), 33 Variations (Helen Hayes nomination, Arena Stage), M. Proust (Jefferson nomination, About Face), The Cocktail Hour (Long Wharf), Madagascar, Wit (Adirondack), Sweeny Todd (Kennedy Center), Hay Fever (Yale Rep). Film: Mirrors, Flags of Our Fathers, The Stepford Wives 2, Odd Couple 2. Television: "The Good Wife," "Dawson's Creek," "Fringe," "Law & Order: SVU," "Law & Order," "The Reagans." YCA Alum.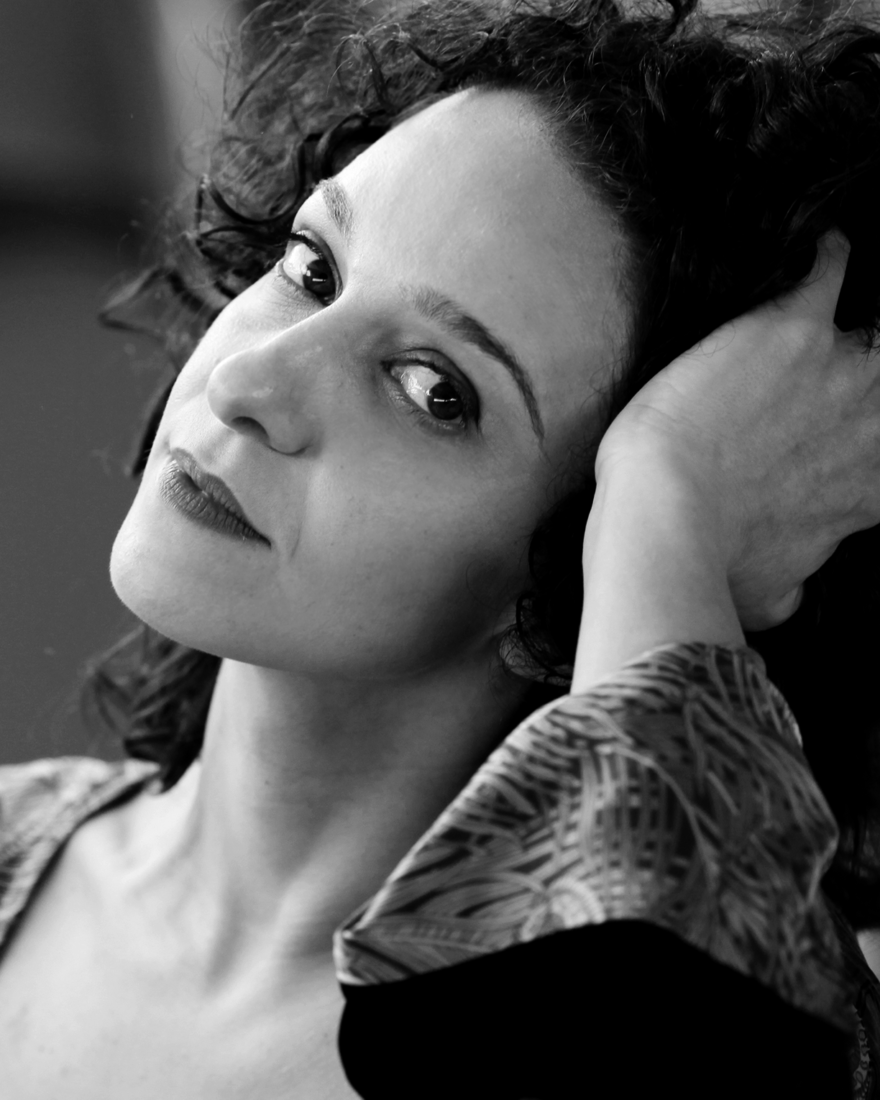 Cristina Spina
Ensemble
CRISTINA SPINA. Off-Broadway: Kaos, leading role Sidora (dir. Martha Clarke, New York Theatre Workshop). In Rome, Italy: War, The Brothers Karamazov, (dir. Marinella Anaclerio); An Ispector Calls, leading role Shiela (dir. Giancaro Sepe); Juliet (dir. Karen Coonrod); My name is Rachel Corrie, (dir. Alessandro Fabrizi); The Trojan Women role Cassandra (dir. Mario Gas,); Measure for Measure, leading role Isabel, (dir. Fabio Sonzogni); Orestes, The Holiday Trilogy, Orgy (dir. Massimo Castri); Il Candelaio, That Terrible mess in Via Merulana, (dir. Luca Ronconi); Midsummer Night's Dream, The Wedding, (dir. Carlo Cecchi); The Tempest, role Miranda (dir. Dominique Pitoiset). Film: La Via Degli Angeli, Cuore Altrove (dir. Pupi Avati) Hecuba (dir. Irene Papas). 2006 Premio Stampa Teatro Award, best actress, for the role of Cassandra. www. cristinaspina.com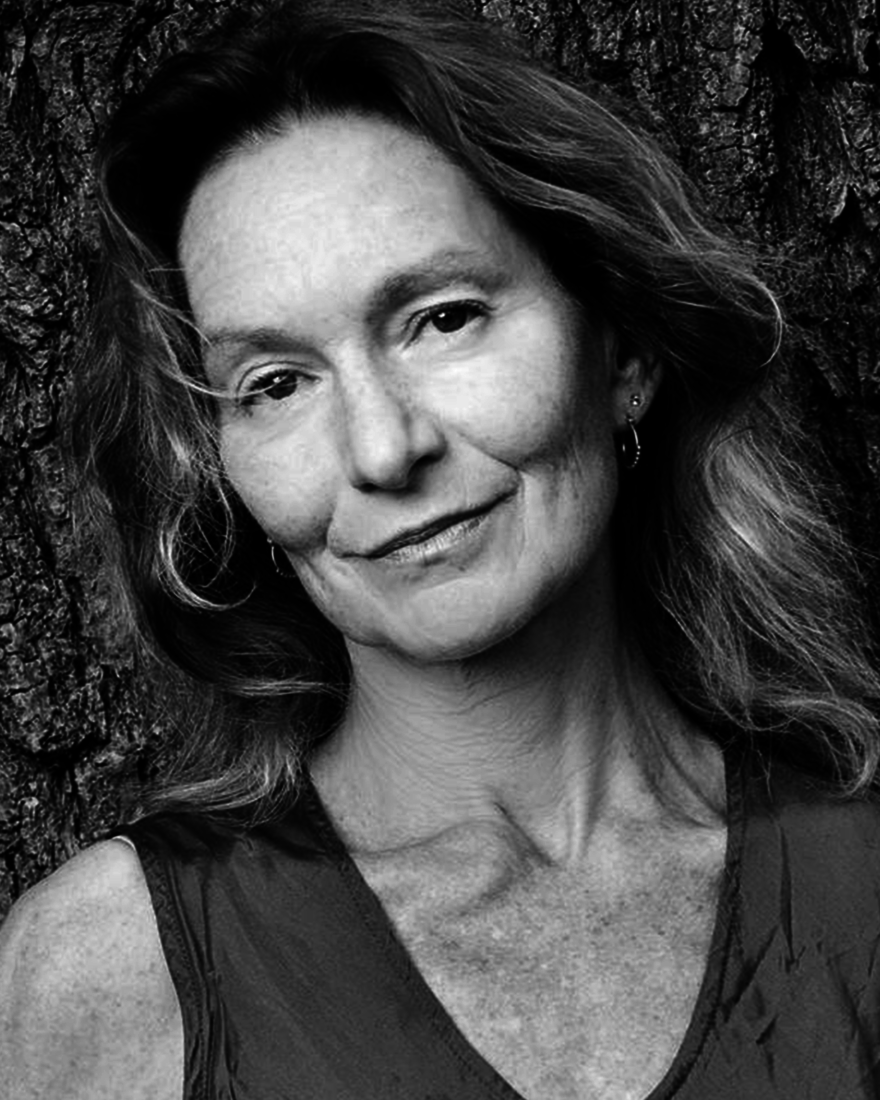 Paola Styron
Ensemble
PAOLA STYRON. Previous productions with Ms. Clarke include: Off Broadway: The Garden of Earthly Delights, Vienna: Lusthaus, and Vienna: Lusthaus (Revisited), The Hunger Artist, Miracolo d'Amore, Vers La Flamme (Lincoln Center Great Performers Series) The operas Marco Polo, and Orfeo ed Euridce (New York City Opera), Hans Christian Andersen (American Conservatory Theater), A Midsummer Night's Dream (American Repertory Theatre), Belle Epoque (Lincoln Center Theater). Associate Artistic Director of Faustwork Mask Theater 1990 – 2000 She is a frequent guest artist and choreographer with renowned Canadian soloist Margie Gillis. Most recent collaborations with her company are The Light Between, and as director, Bulletins from Immortality, both performed throughout Canada. She also works with Heidi Latsky Dance.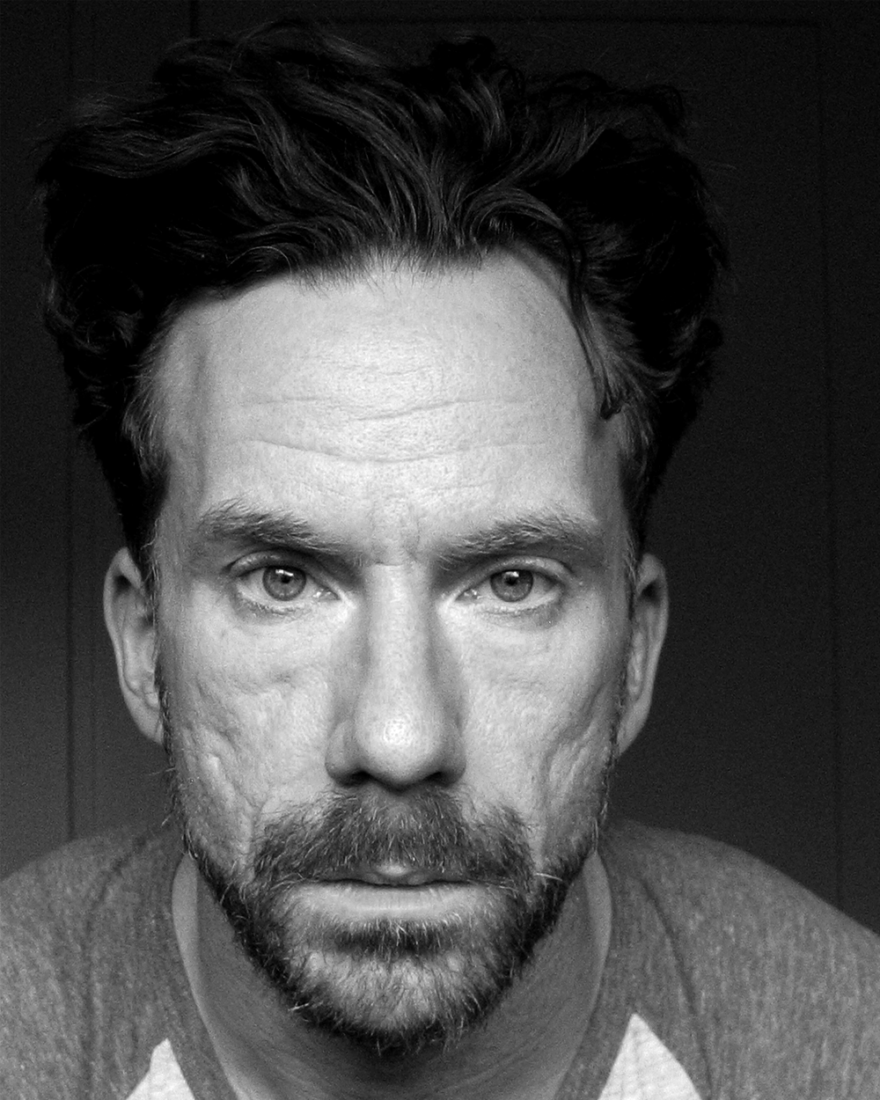 John William Watkins
Ensemble
JOHN WILLIAM WATKINS. Off Broadway: Sleep No More (Punchdrunk) and Jack (TerraNOVA), Film: Son of a Hundred Maniacs, Blushing, Carbon, Red, and Flytrap.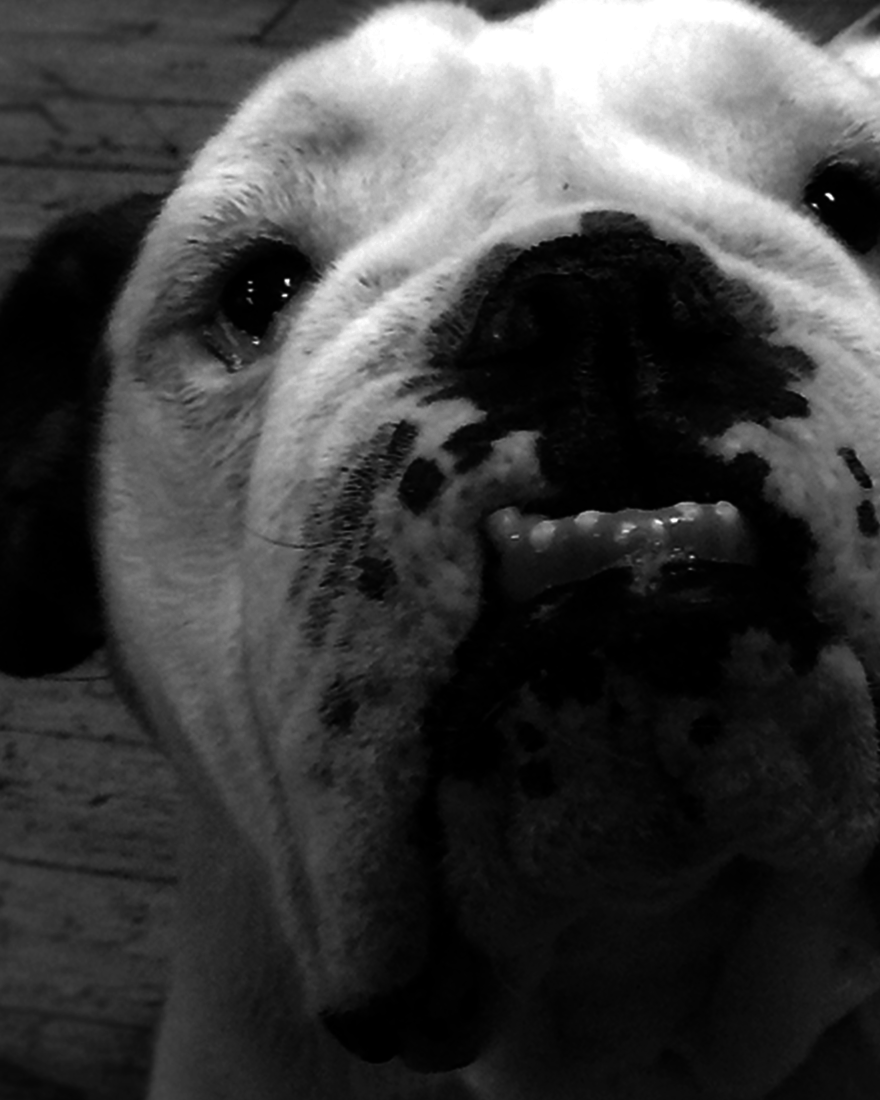 Romeo
Dog
ROMEO was adopted by trainer/guardian William Berloni in 2012 from the Associated Humane Society in Newark, NJ. He was part of a cruelty case where he was rescued from a life as a junkyard dog. He made his theatrical debut February of 2013 as "Rufus" in Legally Blonde and loves being an actor. He wishes to thank Martha Clarke for giving him his first serious role.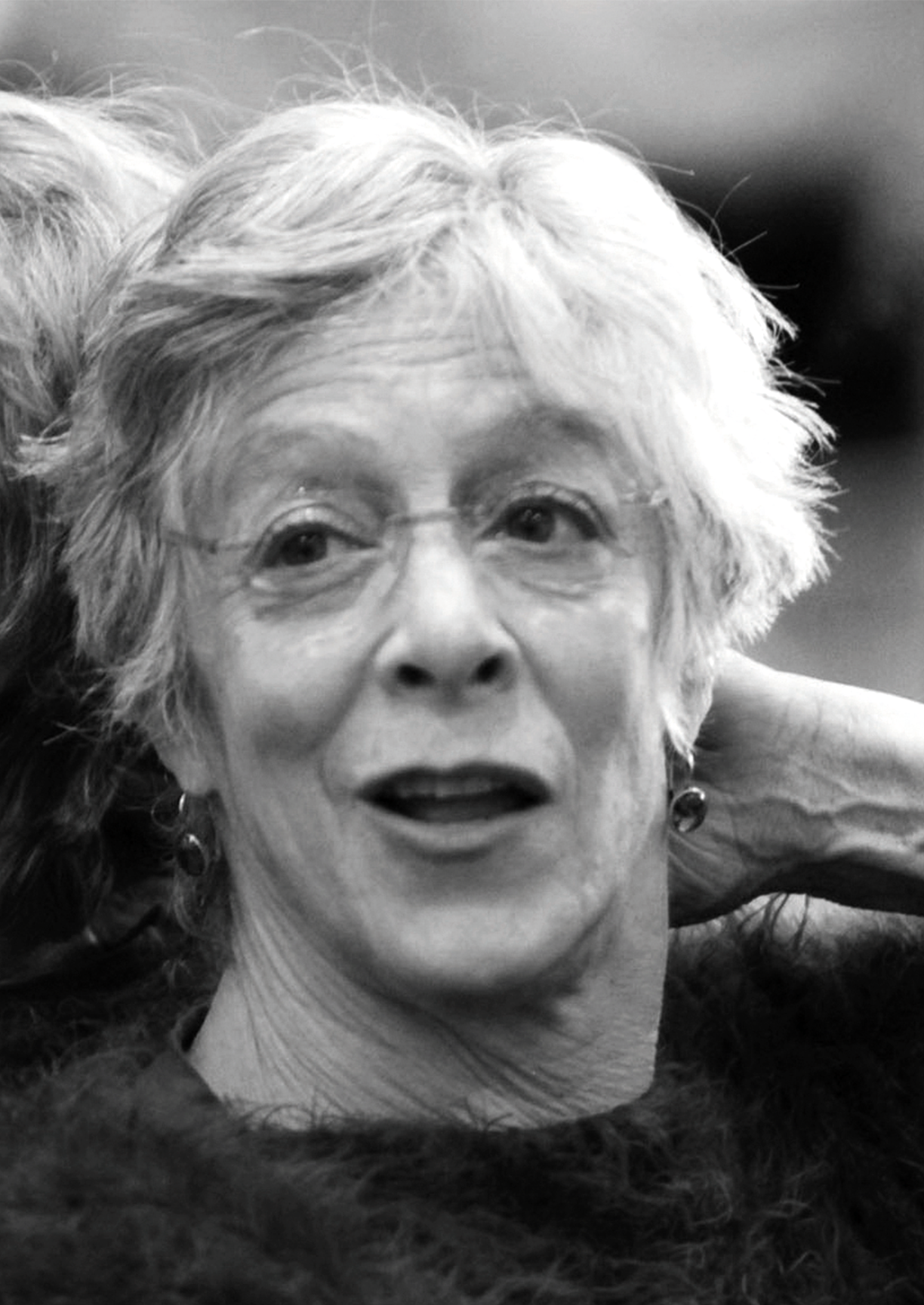 Martha Clarke
Director and Choreographer
MARTHA CLARKE. Founding member of Pilobolus Dance Theatre and Crowsnest. She has choreographed for Nederlands Dans Theater, American Ballet Theatre, Rambert Dance Company, and The Martha Graham Company, among others. Directing credits include Cheri, Garden of Earthly Delights, Vienna: Lusthaus, Miracolo d'amore, Endangered Species, An Uncertain Hour, The Hunger Artist, Vers La Flame, Belle Epoch, Kaos, Angel Reapers, The Magic Flute, Cosi Fan Tutte, Marco Polo, Orfeo and Eurydice and Midsummer Night's Dream. She has received several awards including the the first Tony Randall Foundation Award in 2006, a MacArthur Award, a Scripps Lifetime achievement award, and the Joe A. Callaway Award. She has received grants from the NEA and Guggenheim Foundation and recently an honorary doctorate from Boston Conservatory and a Dance Magazine award. Clarke is currently a resident artist at the Signature Theater. Gary S. Fagin
Music Director
GARY S. FAGIN served as Musical Director and Conductor at the Yale Repertory Theatre for seven years and for three seasons at the American Repertory Theatre. His music-theater compositions include Charlotte: Life or Theater?; A Distant Love: Songs of John and Abigail Adams; Robert Moses Astride New York; Punch & Judy; Judy & Punch. For four seasons Mr. Fagin's arrangements were broadcast weekly on Garrison Keillor's Prairie Home Companion. He has orchestrated music for symphony orchestras across the country, including the Boston Pops Esplanade Orchestra, Madison Square Garden, and for recordings by Rob Fisher & The Coffee Club Orchestra and The Manhattan Rhythm Kings. Mr. Fagin is Music Director and Conductor of the Knickerbocker Chamber Orchestra and the Bucks County Symphony Orchestra. Bertolt Brecht
Playwright
BERTOLT BRECHT. Born in Bavaria, 1898. At age 24, his cutting-edge Drums in the Night won him Expressionist recognition. His quickly written Threepenny Opera was Germany's greatest hit of the 1920s. Revolutionary in form for 1928 Berlin, being non-operatic, anti-highbrow musical theatre and cynically satirical, it irritated the Nazis; Brecht left Germany with his family in 1933. He continued to write in Scandinavia (e.g. Mother Courage) until the Nazi invasion. In California, along with some work for Hollywood, he wrote The Caucasian Chalk Circle and Galileo, produced in L.A. in 1947. The House Un-American Activities Committee interrogated him that same year; he left the U.S. the following day. He established the Berliner Ensemble in 1949 in East Berlin, opening Mother Courage with his wife Helene Weigel; its 1954 tour to Paris brought him recognition as Europe's most important director, a year before his untimely illness and death. Kurt Weill
Composer
KURT WEILL (1900-1950) came to America in 1935 after great successes in Germany, including operas and musical theatre works with leading playwrights and poets: Georg Kaiser, Iwan Goll, Franz Werfel and Bertolt Brecht. Weill fled Germany in 1933 and spent two years in Paris, where he wrote his second symphony and The Seven Deadly Sins for Balanchine's Les Ballets 1933. He composed his first score for Broadway in 1936 for the Group Theatre's Johnny Johnson and went on to work with some of America's leading writers on Knickerbocker Holiday (score nominated for a 1944 Oscar), Lady in the Dark, One Touch of Venus, Street Scene (1947 Tony Award for Composer), Love Life (the first "concept" musical), and Lost in the Stars. After his death, Weill's wife Lotte Lenya rekindled interest in his German works with a landmark series of performances and recordings that remains classic. Marc Blitzstein
English Adaptation
MARC BLITZSTEIN. As a composer, Marc Blitzstein (1905-1964) is best known for Regina, an opera based on Lillian Hellman's play The Little Foxes and now his most frequently performed composition, and for his pro-union musical The Cradle Will Rock, which famously defied censorship by the Works Progress Administration in 1937 and inspired a 1999 film by Tim Robbins. Other major works include I've Got the Tune, No for an Answer, the Airborne Symphony, Reuben Reuben, and the Broadway musical Juno. As contemporaries in the American musical theater, Kurt Weill and Marc Blitzstein shared common interests in creating socially conscious, populist theater, fusing classical and popular musical idioms, and developing American opera. Blitzstein's English adaptation of Weill and Brecht's 1928 Dreigroschenoper (The Threepenny Opera) catapulted the work into lasting prominence on U.S. stages and established "Mack the Knife" as one of the top popular songs of the 20th century. The legendary off-Broadway stage production at the Theater de Lys ran from 1954 to 1961 for a total of 2,707 performances, setting the record as the longest-running musical in history up to that date. The MGM cast album sold in record-breaking numbers, and recordings by Louis Armstrong, Bobby Darin, and Ella Fitzgerald, among countless others, sent "Mack the Knife" to the top of the charts. Robert Isreal
Set Designer
ROBERT ISREAL Robert Israel has worked with Martha Clarke on numerous productions. He has designed over sixty-five opera productions from Paris to New York to Tokyo. He lives in Los Angeles with his wife Randi and their dog, 3.1416 (Pi). Israel teaches at UCLA where he is a professor in the Department of Design and Media Arts in the School of the Arts. Donna Zakowska
Costume Designer
DONNA ZAKOWSKA. Theatre with Arrabal, Martha Clarke, Eve Ensler, Richard Foreman, John Kelly, William H. Macy, Tom O'Horgan, Roman Paska, Steve Reich, Julie Taymor, Big Apple Circus and Mick Jagger. Films, after assisting with Woody Allen: John Turturro's Mac, Search and Destroy, Harriet the Spy, Forces of Nature, Illuminata, One True Thing, Invisible Circus, Original Sin, Kate and Leopold, Empire Falls, Romance and Cigarettes, Then She Found Me, John Adams (Emmy), Bunraku, Rehearsal for a Sicilian Tragedy, Someday This Pain Will Be Useful to You, Bless Me Ultima, The Iceman, Fading Gigolo and God's Pocket. Honored in 2009 by New York Women in Film and Television. Christopher Akerlind
Lighting Designer
CHRISTOPHER AKERLIND. Atlantic: Two Unrelated Plays by David Mamet, This Thing of Darkness, The Lights (at Lincoln Center). Broadway: Rocky, End of the Rainbow, The Gershwins' Porgy and Bess (Tony nom.), Superior Donuts, Top Girls, 110 in the Shade (Tony nom.), Talk Radio, Shining City, Awake and Sing (Tony nom.), Well, Rabbit Hole, A Touch of the Poet, In My Life, The Light in the Piazza (Drama Desk, Outer Critics, Tony awards), Reckless, The Tale of the Allergist's Wife, Seven Guitars (Tony nom.) and The Piano Lesson. With Martha Clarke: Chéri (Signature), Angel Reapers (The Joyce), Garden of Earthly Delights (Minetta Lane), L'altra metà del cielo (Teatro alla Scala), Kaos (NY Theatre Workshop), Belle Epoque (Mitzi Newhouse). Awards: Obie for Sustained Excellence, Michael Merritt Award for Design and Collaboration, among others. Clive Goodwin
Sound Designer
CLIVE GOODWIN. Broadway: The Glass Menagerie, Once (Tony Award, Best Sound Design of a Musical). London West End: Once. Off Broadway: Once (Lortel nomination for Outstanding Sound Design), What's It All About, Soul Doctor. American Repertory Theatre (A.R.T.), Cambridge, MA: Pippin, The Glass Menagerie, Once; Prometheus Bound; The Blue Flower (IRNE and Elliot Norton Awards for Best Sound Design of A Musical); Cabaret, with Amanda Palmer. Worldwide: Sound designer/engineer for Radiohead, Underworld, Pulp. Film/Television: "Greetings from Tim Buckley," "Strictly Come Dancing" (BBC), "Later with Jools Holland" (BBC), "The Sound of Musicals" (BBC). Fred Lassen
Conductor
FRED LASSEN. Broadway: Porgy and Bess, South Pacific, Dirty Rotten Scoundrels, Spamalot, Cabaret, 42nd Street. Off-Broadway/Regional: ZORRO (Alliance Theatre), Getting The Band Back Together (George Street Playhouse) Sycamore Trees (Signature, DC), Dangerous Beauty (Pasadena Playhouse), Adrift In Macao (Primary Stages). Associate Music Supervisor, NBC's live telecast of The Sound Of Music. Helen Hayes nomination: Outstanding Music Direction, Ricky Ian Gordon's Sycamore Trees. International: 4STARS, (Tokyo/Osaka), Maury Yeston's Peony Pavilion (Beijing), Cabaret (Folies Bergère, Paris). As Music Director for Laura Osnes, Fred produced/arranged her albums Dream a Little Dream: Live At The Café Carlyle and If I Tell You. He has arranged/orchestrated for Paulo Szot, and records/performs with Metropolitan Opera bass-baritone David Pittsinger. Fred has a degree in Organ Performance from Oberlin Conservatory. Michael Aarons
Music Contractor
MICHAEL AARONS. Michael's performing and recording credits include artists such as Placido Domingo, Barry Manilow, Joshua Bell, James Ingram, Michael McDonald, Elton John, Ray Charles, Luther Vandross, Liza Minnelli, Patti LaBelle and many more. Michael's Broadway credits include guitarist and/or inhouse contractor for Kinky Boots, Evita, Godspell, Baby It's You!, American Idiot, Memphis, 9 to 5, Grease, High Fidelity and Laugh Whore. Michael did additional guitar arrangements for Next to Normal. Michael's TV & film music production company, Hybrid Music Productions, has composed and/or licensed original music for "Sesame Street," Style, CNBC, Lifetime, Oxygen, ABC, OWN and other networks worldwide. Michael is beyond thrilled to be working with the talented people of The Threepenny Opera. William Berloni
Animal Trainer
WILLIAM BERLONI. Recipient of the 2011 Tony Honor for Excellence in Theater. BDWY: Twenty Six shows starting with Annie to Bullets Over Broadway. Animal Director for Because of Winn Dixie, December 2013 at the Arkansas Repertory Theatre. Music by Duncan Sheik, lyrics and book by Nell Benjamin and directed by John Tartaglia. Shows with Martha Clarke are Vers La Flame and Hans Christian Anderson. Hundreds of Off-Broadway and regional theatre productions, tours, movies and television shows. Recent television shows include NBC's "Annie's Search for Sandy" and twelve seasons of "Sesame Street". Published author of Broadway Tails by Globe Pequot Press. Director of Animal Behavior for Humane Society of New York. Visit us at www.theatricalanimals.com and follow William Berloni Theatrical Animals, Inc. on Facebook and on twitter @BillBerloni. J. David Brimmer
Fight Coordinator
J. DAVID BRIMMER. Fight Master, SAFD. Broadway: Grace; An Enemy of the People; Hands on a Hardbody; The Big Knife; Wit; Born Yesterday; A Life in the Theatre; Speed-the-Plow; Come Back, Little Sheba; Spring Awakening; The Lieutenant of Inishmore; NY premieres: The Night Alive, Mr. Burns, Blasted, The Whipping Man, Bethany, We are Proud to Present, Harper Regan, Hit the Wall, Ages of the Moon, The American Pilot, Blackbird, Bug, Killer Joe, worked at some wonderful venues: The Public Theater, Metropolitan Opera, MTC, Atlantic, LCT3, The Women's Project, Soho Rep, MCC, Signature Theatre, TFANA, Roundabout, Dallas Theater Center, Hartford Stage, NSMT, A.R.T., Baltimore Centerstage, Yale Rep, The Old Globe, The Guthrie), and with some great folks: David Mamet, Sam Shepard, Ethan Coen, Martin McDonagh, Tracy Letts, Kenneth Lonergan, Ken Russell, Franco Zeffirelli. "Walk cheerfully over the world, answering that of God in everyone." —G. Fox. Johnny Milani
Production Stage Manager
JOHNNY MILANI. Atlantic debut! Broadway: Bring It On: The Musical, Harvey, Nice Work If You Can Get It, Bengal Tiger at the Baghdad Zoo, and Hair. Off-Broadway: Fun Home, The Last Five Years, Avenue Q, Chalk Circle, Spirit Control, and The Capeman. Regional: The Bridges of Madison County, Animal Crackers, Frog Kiss, and The Lady in Question. Benefits: BC/EFA, DRA, and the Actor's Fund. Graduate of UNCSA. Thanks to Stephen & Devin. Love to Colyn. Stephen Ravet
Assistant Stage Manager
STEPHEN RAVET. Broadway: The Assembled Parties (MTC); Off-Broadway: Peter and the Starcatcher (New World Stages), The Unavoidable Disappearance of Tom Durnin (Roundabout), RENT (New World Stages), Angels in America (Signature). Regional: The Old Globe, La Jolla Playhouse. Thanks to Martha, Johnny, Devin, and Chris! Tim Albright
Trombone
TIM ALBRIGHT is a member of the New York Chamber Brass, The Atlantic Brass Quintet, Riverside Symphony and Argento New Music Project. He is on faculty at Purchase College and the Juilliard School Pre-College division. Jazz credits include Steve Coleman and the Five Elements, Maria Schneider, Michel Legrand, Steve Lehman, Alan Ferber and Ralph Alessi. Some highlights are Mr. Coleman's acclaimed album Weaving Symbolics and Mr. Lehman's Travails, Transformation and Flow. Chamber-music credits include Orpheus Chamber Orchestra, The Knights Chamber Orchestra, International Contemporary Ensemble, Alarm Will Sound, Talea Ensemble, and Paragon Ragtime Orchestra. Pop highlights include Jay-Z's Carnegie Hall concert and Barbara Streisand's Back to Brooklyn concert. Other pop credits include Sufjan Stevens, The National, Beirut, Shakira, and Rufus Wainwright. Film and TV credits include Ben Stiller's "The Secret Life of Walter Mitty," Cary Fukunaga's "Sin Nombre," "Backyardagains," and various jingles for TV and radio. Broadway credits include Spamalot, West Side Story and Evita. Nicholas DiFabbio
Guitar, Banjo & Hawaiian Guitar
NICHOLAS DIFABBIO is a 25 year veteran of the New York theater scene with over thirty Broadway credits including Les Miserables and Jekyll and Hyde. He is the producer of the radio series and web site titled, "The Beatles Song By Song," the writer and producer of the Christmas album; Christmas Time In Our Little Town, and is staff guitarist at the Goodspeed Opera House in CT among many other venues in Connecticut. He resides with his family in Guilford, CT. Jeff Nichols
Alto Sax & Clarinet
JEFF NICHOLS (Alto Sax & Clarinet) is a woodwind player based in New York City, specializing in the saxophone, flute and clarinet. He has performed in a variety of settings, ranging from intimate chamber music to live rock shows. In addition to live performance, Jeff also does some recording work, most recently for the Indie/Pop band Snowmine's new album Dialects. Jeff has worked on numerous Broadway shows, most recently Rodgers + Hammerstein's Cinderella and The Nance. He has also appeared alongside the Rockettes as a member of the orchestra for Radio City's Christmas Spectacular. Dave Roth
Percussion
DAVE ROTH has been performing and teaching for over 25 years and has appeared in over 200 cities worldwide. He most recently performed in A Christmas Story, Radio City's Christmas Spectacular, Evita, and over 30 Broadway productions. He has also performed in symphony orchestras throughout the Midwest and east coast. Dave is a proud endorser of Yamaha Percussion, Latin Percussion, Paiste Cymbals and Vic Firth. His most important roll is as a lobbyist for the Alzheimer's Association and founder of the Broadway Alzheimer's iPod Drive providing personalized music to those suffering from the disease. www.facebook.com/BroadwayAlzheimersiPodDrive, www.daveroth.com Jeff Schiller
Tenor Sax & Clarinet
JEFF SCHILLER is a musician specializing in saxophone, clarinet, flute and voice performance. He also works as a composer, arranger, copyist and instructor. His diverse performing, compositional and arranging styles have been heard over the years in many venues, markets and media. These include Broadway productions, radio, TV and internet jingles, soundtracks of major and independent motion pictures, network and cable TV shows, numerous original recordings and in countless live concert performances. In addition to his professional activities, Jeff is also an avid bike rider, farmer's market patron, cook, sniffer and tail-wagger. More information about Jeff is available at www.houndogschiller.com. Dylan Schwab
Trumpet
DYLAN SCHWAB played with the Glenn Miller Orchestra after college, after the move to NYC he's subbed on 18 Broadway shows. He played on Sting's Symphonicities album, Barbra Striesand's tour, Back to Brooklyn and appeared on and off screen in NBC's "SMASH." He was last seen at Big Fish: the Musical. R&H Theatricals
Licensor
R&H THEATRICALS represents the stage performance rights to over 100 musicals by more than 200 writers. These include works by Rodgers & Hammerstein (including Oklahoma!, South Pacific and The Sound of Music), Rodgers & Hart (Pal Joey, Babes in Arms), and Kern & Hammerstein (Show Boat), as well as musicals by Irving Berlin (Annie Get Your Gun, White Christmas), Andrew Lloyd Webber (Cats, The Phantom of the Opera), Adam Guettel (The Light in the Piazza, Floyd Collins), Kurt Weill (The Threepenny Opera, Lady in the Dark), such perennials as Big River, Once Upon A Mattress, and Footloose, and the longest-running revues in the history of Broadway: Smokey Joe's Café and Off-Broadway: I Love You, You're Perfect, Now Change. Recently added titles include In the Heights, A Catered Affair, It's Only Life, [title of show], Love Musik, Face the Music, Reefer Madness, Altar Boyz, Bernarda Alba, Mid-Life! The Crisis Musical , and Bright Lights, Big City. R&H Theatricals is an Imagem company: www.rnh.com.
Reviews
"A chic-looking musical that moves efficiently and with a stylish gait. Ms. Clarke does a fine job of composing decadent yet decorous stage pictures. Mr. Park is vibrant. Ms. Osnes performs with gorgeous musicality!"
the new york times
"An energetic and fluid production! Martha Clarke's dreamlike presentation retains the essential core of dark humor that softens the bleak heart of this musical. A fine ensemble!"
associated press
Photos by Kevin Thomas Garcia