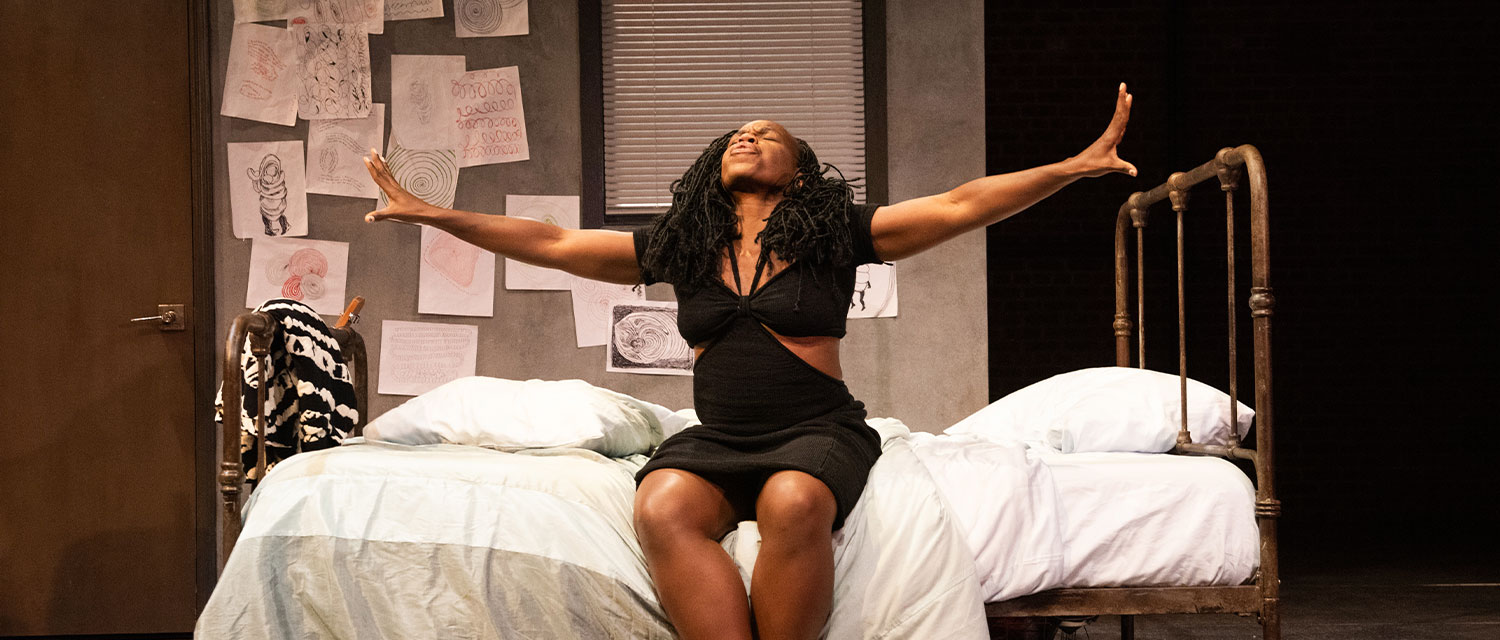 The Last of the Love Letters
by Ngozi Anyanwu
directed by Patricia McGregor
Linda Gross Theater
August 26 – september 26, 2021
Atlantic is trilled to welcome back 2020 Steinberg Playwright Award winner Ngozi Anyanwu (The Homecoming Queen) to open its season with this haunting world premiere!
More Info
two people contemplate the thing they love the most
and whether
to stick it out
or to leave it behind
to stay
or
to go
that is the question
the last of the love letters
is just that
a plea
and a painful goodbye wrapped into one
Running time: approximately 75 minutes, with no intermission.
Please Note: This production contains strobe-like effects, violence, sexual content, and incense.
ViRTUAL PROGRAM:
We are providing a digital program for The Last of the Love Letters.
Reviews
"Ngozi Anyanwu is developing new forms! In The Last of the Love Letters, passion is inescapable. With bold staging by McGregor, Anyanwu delivers a furious comic diatribe & Watts gives a thrillingly physical performance. Both are operatic types, making arias out of their affection & abhorrence!"
"In her career, Ngozi Anyanwu has displayed remarkable gifts for storytelling! The Last of the Love Letters is both more intimate & more ambitious. And under Patricia McGregor's direction, she is captivating!"
★★★★
"Both Anyanwu & Watts are magnetic performers; under McGregor's taut direction, they instantly draw viewers! There's a radical kind of comfort in coming together again to find reassurance that none of us is alone, even when we are."
"Floats from high poetry to conversational wit! Anyanwu's delivery is lyrical & grounded. I'm delighted a theater full of strangers can finally breathe together."
★★★★
"A muscularly poetic outcry. In Watts' performing, something astonishing unfolds. His hyperkinetic athleticism—Olympic—has rarely, if ever, been unleashed on a stage! Anyanwu's impassioned probe is a stunning addition to the annals of playwriting gazes at love and its infinite possibilities."
"Brilliant! Anyanwu's words land somewhere between poetry, heated rant & drunken triple-text. It's an explosive combination & one that demands further work from her!"
"A richly packed powerhouse of a show. My advice: Get there while you can for this hard-hitting must-see show."
—
Deb Miller,
DC Metro Theater Arts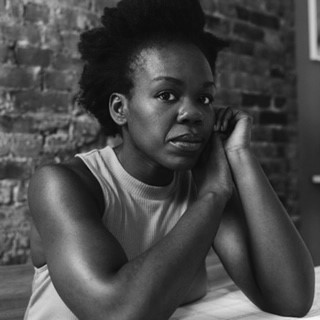 Ngozi Anyanwu
Playwright & You
NGOZI ANYANWU is a playwright, storyteller, and most recently a 2020 Steinberg Playwright Award winner. Previous productions include Good Grief (Vineyard Theatre in NYC / Center Theatre Group in LA) and The Homecoming Queen (sold-out world premiere run at Atlantic Theater Company). Good Grief was on the Kilroys List 2016 and a semifinalist for the Princess Grace Award, and won the Humanitas Award. The Homecoming Queen was on the Kilroys List 2017 and was a Leah Ryan Finalist. Her play Nike… (Kilroys List 2017) was workshopped at The New Black Fest in conjunction with The Lark and The Strand Festival in conjunction with A.C.T and Space on Ryder Farm. Ngozi also has commissions with NYU, The Old Globe, Two Rivers Theatre, Atlantic Theater, and Steppenwolf. Anyanwu has also received residencies from LCT3, Space on Ryder Farm, the Djerassi Resident Artists Program, The New Harmony Project, New York Stage and Film, and Page 73. She attended Point Park University (BA) and received her MFA in Acting from University of California, San Diego.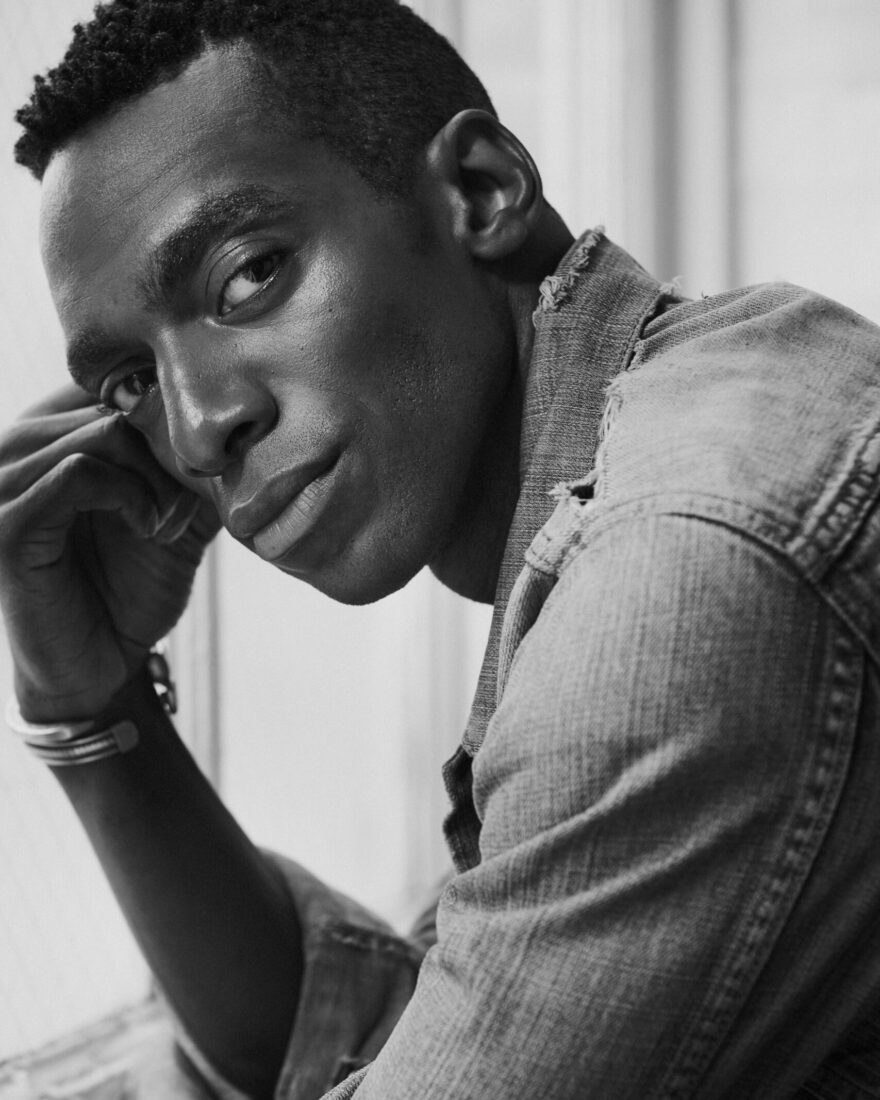 Daniel J. Watts
You No.2
DANIEL J. WATTS is an NYC-based multidisciplinary artist. For acting, Watts is a 2020 Tony Award nominee and Outer Critics Circle Award winner for his portrayal of Ike Turner in the hit Broadway musical TINA. He has appeared in nine Broadway shows including Hamilton, Memphis, and After Midnight. He received the Barrymore Award (People's Light) and the LA Ovation Award (Geffen Playhouse) for Best Featured Actor for his portrayal of Sammy Davis, Jr. in Lights Out: Nat King Cole opposite Dulé Hill. TV credits include Season 3 of "The Marvelous Mrs. Maisel," Seasons 1 & 2 of "The Last OG," "Blindspot," and "Vinyl." Off-Broadway he has starred as the title character in Suzan-Lori Parks' Death of the Last Black Man in the Entire World AKA The Negro Book of the Dead (Signature Theatre) and Whorl Inside a Loop (Second Stage Theater). A play-on-words, Daniel J. Watts' The Jam pays homage to Watts' great-grandmother who, after making jam from scratch, would share with others what she was unable to consume herself. The Jam is Watts' continuation of that legacy, blending elements of stand-up comedy and compelling storytelling with his original spoken word, often set to music and/or dance. The Jam: Only Child was a wide success at the 2020 Public Theater Under the Radar Festival and has also streamed as part of the Signature Theater (DC) 2020-2021 season. Inaugural (2020) ANTONYO Award Winner for Best Quarantine Content. His original work and musical collaborations are featured on Raphael Saadiq's newest album "Jimmy Lee," Tituss Burgess' "Saint Tituss," Divinity Roxx's "ImPossible," Nick Blaemire's "Ampersand;" as a contributing artist for Armstrong Now in conjunction with The Louis Armstrong House Museum; and featured in the young adult anthology "How I Resist" edited by The New York Times Best Seller Maureen Johnson for Wednesday Books/Macmillan. His TED talk "To Accomplish Great Things, You Need to Let Paint Dry" appears at go.Ted.com/danieljwatts. Watts is an artist in residence at ASU Gammage and also serves as an adjunct professor of NYU's Tisch New Studio. BFA, Elon University Music Theatre Program. 2021 Commencement Speaker. 2011 Young Alumnus Award Recipient. wattswords.com IG/Twitter: @dwattswords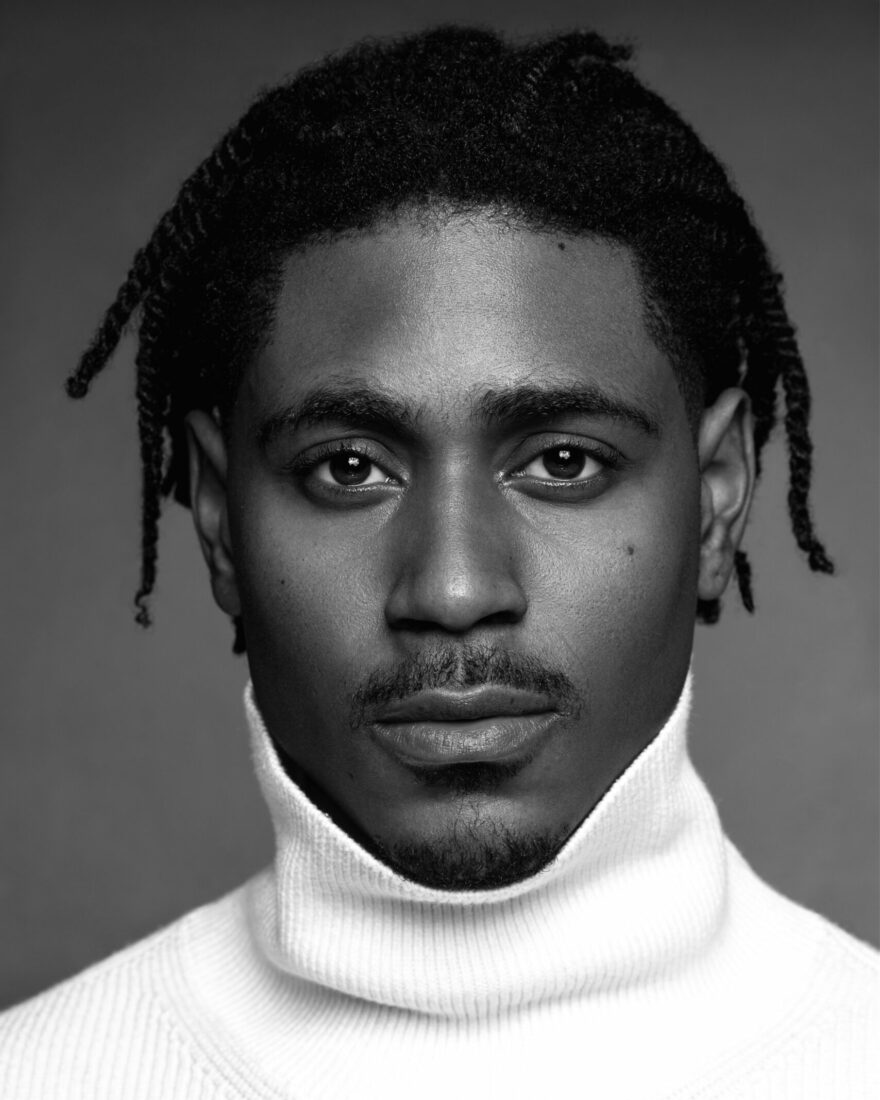 Xavier Scott Evans
Person
XAVIER SCOTT EVANS is an actor-writer best known for the roles of Akil in HBO Max's "Love Life" Season 2 Ep. 7 ('21), Officer Grey in Anna Gutto's Paradise Highway ('21), Manny in Bottom of the 9th ('19), "Shades of Blue" ('16), and "Blue Bloods" ('14). His roles in the theater include Person in Atlantic Theater Company's Off-Broadway production of Ngozi Anyanwu's The Last of the Love Letters directed by Patricia McGregor. He starred as Fish in The Royale by Marco Ramirez and Jonny in The Mystery of Love & Sex by Bathsheba Doran. Graduate of Circle in the Square Theater School class of 2014 and a proud Wilsonian Soldier.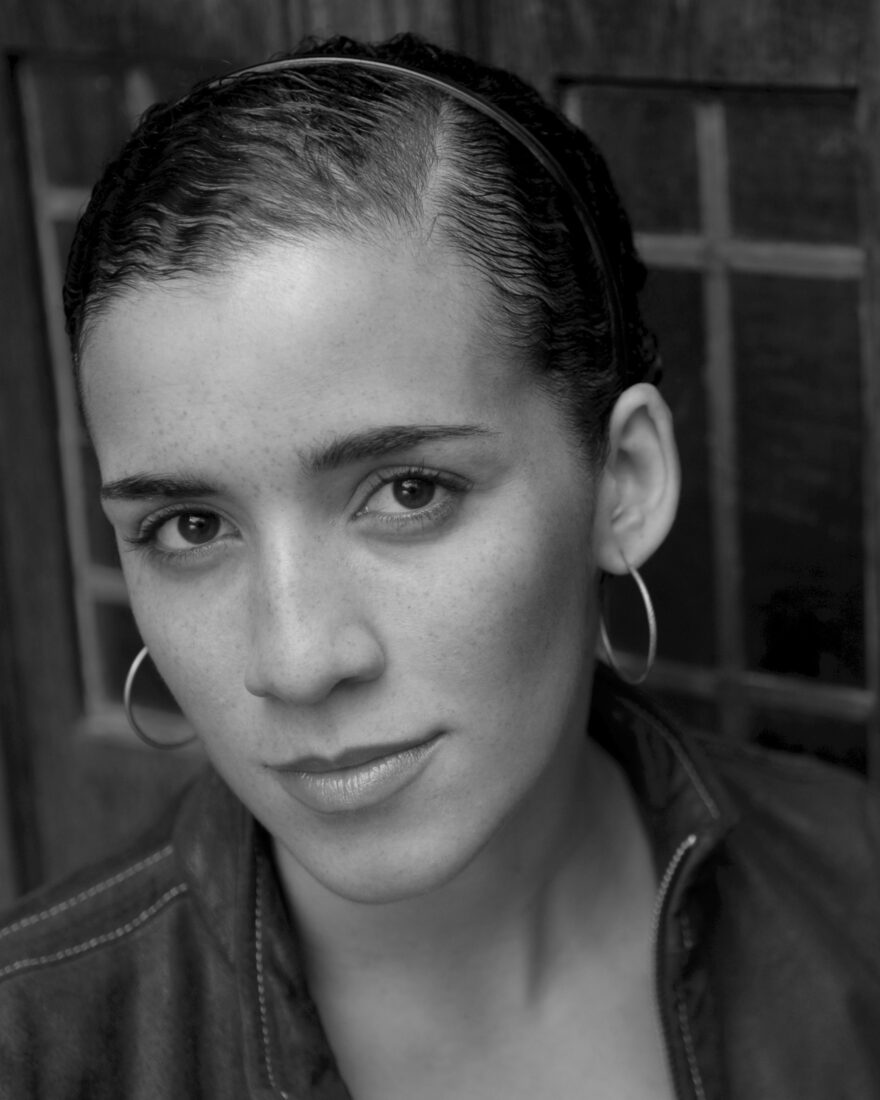 Patricia McGregor
Director
PATRICIA McGREGOR (she/her/hers). Born in St. Croix, U.S. Virgin Islands, Patricia McGregor is a director and writer working in theater, TV/film, and music. McGregor has twice been profiled by The New York Times for her direction of world premieres. Productions include Lights Out: Nat "King" Cole (co-writer and director, Geffen Playhouse, People's Light); Sisters In Law (Wallis Annenberg); What You Are, A Midsummer Night's Dream, Measure for Measure (The Old Globe); Skeleton Crew (Geffen Playhouse, Studio Theater); Good Grief (Center Theater Group); Hamlet (The Public Theater); Place (BAM); The Parchman Hour (The Guthrie Theater); Ugly Lies the Bone (Roundabout Theatre Company); brownsville song… (Lincoln Center); Indomitable: James Brown (The Apollo); Holding It Down (Metropolitan Museum); A Raisin in the Sun, The Winter's Tale, Spunk (California Shakespeare Theater); Adoration of the Old Woman (INTAR); Blood Dazzler (Harlem Stage); Four Electric Ghosts (The Kitchen); and the world premiere of Hurt Village (Signature Theatre Company). For many years she has directed The 24-Hour Plays on Broadway. She served as director for HBO's emerging writer's showcase and tour consultant to Raphael Saadiq and J Cole. Additionally, she was a directing shadow on HBO's "Lovecraft Country." Patricia co-founded Angela's Pulse with her sister, choreographer, and organizer Paloma McGregor, and is Artist in Residence for Adam Driver's Arts in the Armed Forces and serves on the advisory board for the Parent Artist Advocacy League. She is a member of the National Theater's International Director's Lab and a Usual Suspect at New York Theater Workshop. McGregor attended the Yale School of Drama, where she was a Paul & Daisy Soros Fellow and Artistic Director of the Yale Cabaret. Yu-Hsuan Chen
Scenic Designer Dede Ayite
Costume Designer
DEDE AYITE is a two time Tony-nominated costume designer whose Broadway credits include A Soldier's Play, Slave Play, American Son, and Children of a Lesser God. Select Off-Broadway credits include Merry Wives (The Public); Secret Life of Bees, Marie and Rosetta (Atlantic); By The Way, Meet Vera Stark (Signature); BLKS, School Girls… (MCC); Bella: An American Tall Tale (Playwrights Horizons); The Royale (Lincoln Center); Toni Stone (Roundabout). Regionally, Ayite's work has appeared at Oregon Shakespeare Festival, Steppenwolf, Arena Stage, and more. She has worked in television with Netflix, Comedy Central, and FOX Shortcoms. Ayite earned her MFA at the Yale School of Drama and has received an Obie, Lucille Lortel, Helen Hayes, Theatre Bay Area, and Jeff Awards, along with four Drama Desk nominations. Stacey Derosier
Lighting Designer
STACEY DEROSIER. NYC lighting designer credits: The Great Filter (The Wild Project), PEEP SHOW (Soho Rep, Project Number One), A Play for the Living in a Time of Extinction (Baltimore Center Stage), The Glorious World of Crowns, Kinks, and Curls (Baltimore Center Stage), Letters to My Father (M-34), American Dreams (The Working Theater), Here We Are (Theater for One), School Girls, Or the African Mean Girls Play (Berkeley Rep), All the Natalie Portmans (MCC Theater), Stew (Page 73), How to Load a Musket (Less Than Rent), The Copper Children (Oregon Shakespeare Festival), Men on Boats (Baltimore Center Stage), for all the women who thought they were Mad (Soho Rep), White Noise conceived by Daniel Fish (NYU Skirball), Playing Hot! (Pipeline Theater Company), Mies Julie and The Dance of Death (Classic Stage Company), Novenas For a Lost Hospital, No One is Forgotten, Lewiston/Clarkston (Rattlestick Playwright's Theater), and 2018 Lilly Award Daryl Roth Prize recipient. Twi McCallum
Sound Designer
TWI McCALLUM is originally from Baltimore, MD. Her favorite theatrical credits include Kansas City Rep, Baltimore Center Stage, Atlantic Theater Company for Kids, and the new comedy play Chicken & Biscuits in fall 2021 as the first woman of color sound designer on Broadway. She has worked in television/digital production for STARZ, NBC, and Marvel. Most importantly, she is a former student of Howard University's theater department and a graduate of Yale School of Drama's one-year sound program. When not working, she loves archery, learning American Sign Language, zombie video games, and taking care of her pet snails. Jonathan Castanien
Production Stage Manager
JONATHAN CASTANIEN (He/him). NYC: Manhattan Theatre Club, Lincoln Center Theater, The Public, NAATCO, HERE Arts, BAM, among others. LA: Artists at Play, the Latino Theater Company, South Coast Repertory, among others. Jonathan holds a BA in Theatre Design and Production from CSU Fullerton. He is a 2018 alumnus of artEquity's National Facilitator Training, he was featured in American Theatre Magazine's December 2018 "People to Watch" list, and is a co-founder/co-Producing Artistic Leader of The Sống Collective, an initiative that aims to amplify the voices of those from the Vietnamese diaspora. jonathancastanien.com
Community
STUDY GUIDE
Atlantic's study guides take educators and their students deeper into the story. Each guide provides a variety of discussion starters, activities, and a relevant contextual basis to immerse students in the world of the play before attending the show.