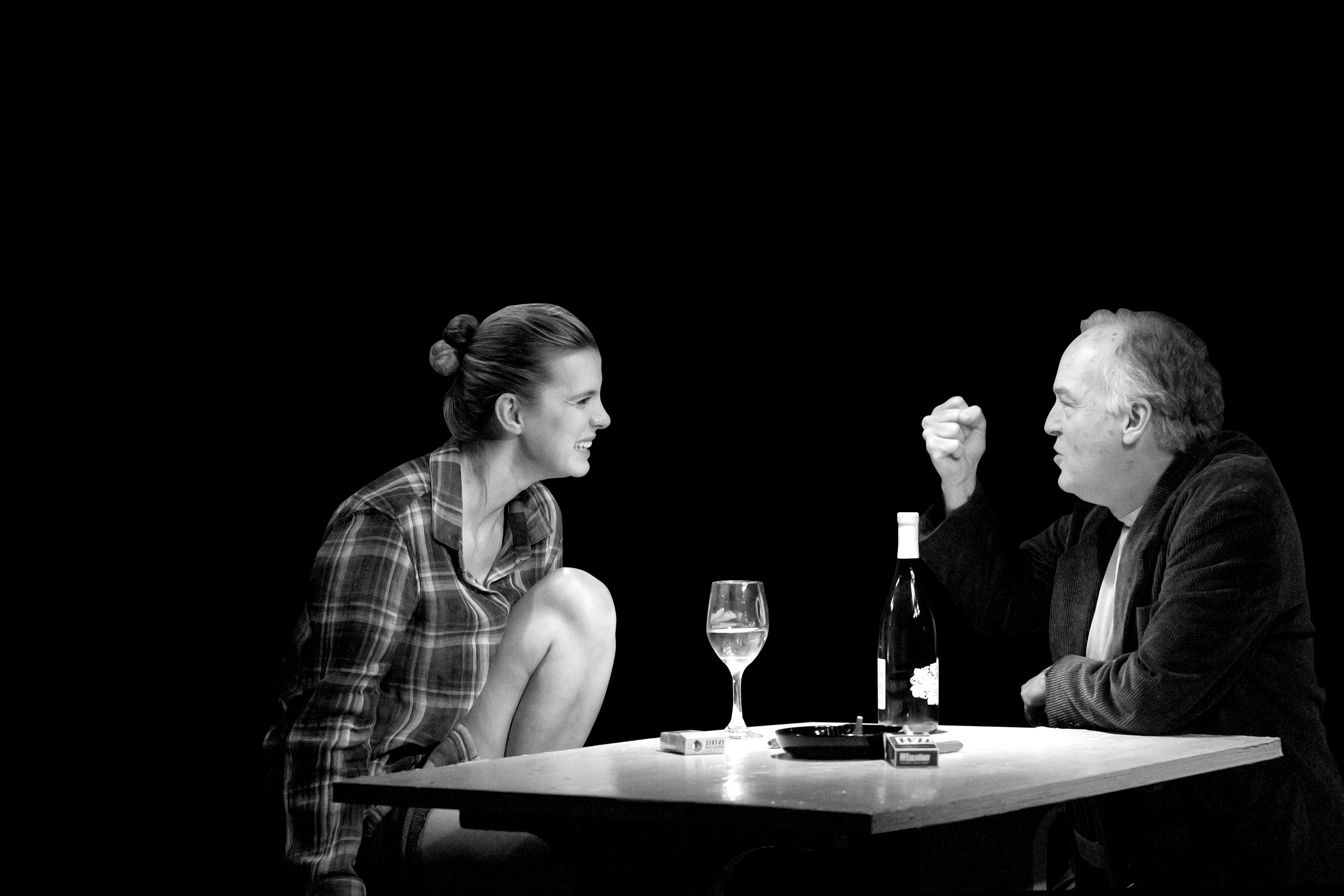 I'm Gonna Pray for You So Hard
by HALLEY FEIFFER
directed by TRIP CULLMAN
Atlantic Stage 2
January 7 – March 1, 2015
This daring and irreverent new play pulls the audience into the middle of a deeply complicated relationship and sheds new light on the eternal struggles of parents and children to find common ground.
More Info
Ella is a precocious and fiercely competitive actress whose sole aim in life is making her famous playwright father David proud. Over the course of a boozy, drug-fueled evening, Ella and David deliberate over whether to read the reviews of her Off-Broadway debut… and things unravel from there.
We're thrilled to welcome Halley Feiffer back to Atlantic with her dark, probing and very funny new play on our Stage 2.
I'm Gonna Pray For You So Hard was developed during a residency at the Eugene O'Neill Theater Center's National Playwrights Conference in 2014 (Executive Director, Preston Whiteway; Artistic Director, Wendy C. Goldberg).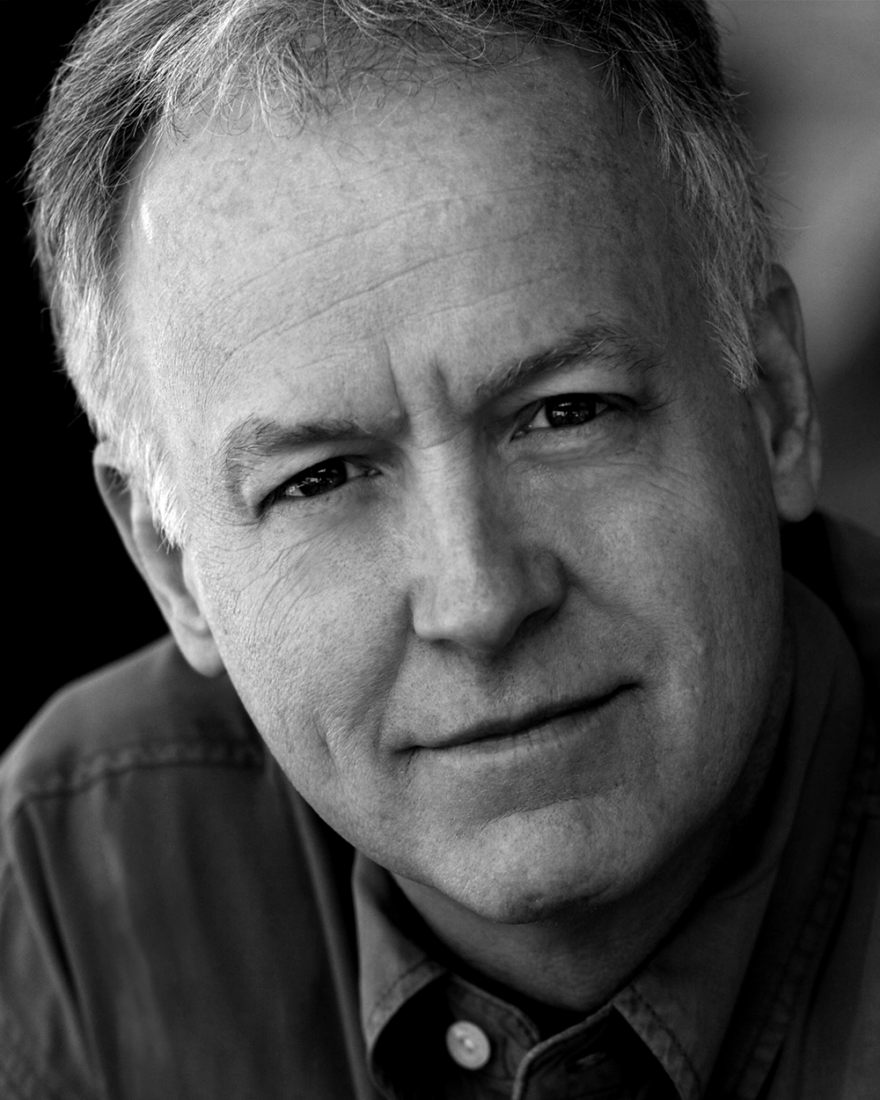 Reed Birney
David
REED BIRNEY returns to Atlantic where he last appeared in the world premiere of Adam Rapp's Dreams of Flying Dreams of Falling. He received a 2014 Tony Award® nomination and a Drama Desk Award for his performance in Harvey Fierstein's play Casa Valentina. Mr. Birney also appeared in the Broadway revival of Picnic. Other Off-Broadway includes Clair Barron's You Got Older (HERE), the title role of Uncle Vanya (Soho Rep; Drama Desk Award nomination), Annie Baker's Circle Mirror Transformation (Playwrights Horizons), Blasted (Soho Rep; Drama Desk nomination), Dr. Sweet in Bug, and Tony Blair in Stuff Happens (Public). In 2011, he was recognized with a Special Drama Desk Award in recognition of the three plays in which he appeared in during one season: A Small Fire at Playwrights Horizons and at the Roundabout Underground, Tigers Be Still and The Dream of the Burning Boy. He has received three OBIEs and two Drama Desk Awards. He is Donald Blythe on the Netflix series, "House of Cards," and can be seen in Halley Feiffer and Ryan Spahn's web series "What's Your Emergency?"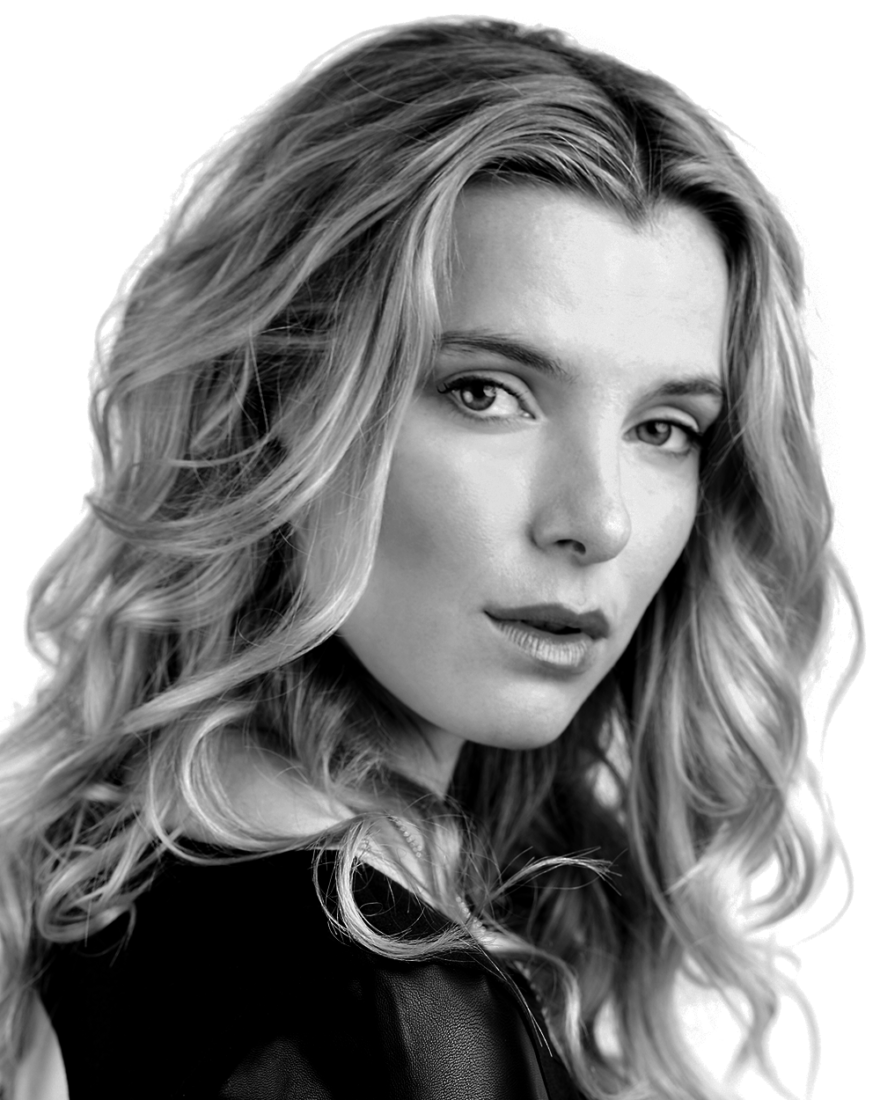 Betty Gilpin
Ella
BETTY GILPIN. Off-Broadway: Good Boys and True, (Second Stage) Boys' Life (Second Stage) What is the Cause Thunder? (Williamstown) That Face (MTC) The Language Archive, (Roundabout) Fish Eye (Colt Coeur) We Live Here (MTC) Heartless (Signature) Where We're Born (Rattlestick). She is currently featured as the newest resident Dr. Carrie Roman in the Showtime series "Nurse Jackie." Additional television and film credits include "The Good Wife," "Past Life," "The Unusuals," "Possible Side Effects," "Fringe," "New Amsterdam," "Law & Order," "Law & Order: Criminal Intent," "Law & Order: SVU," "Medium," Death in Love, The Northern Kingdom, Ghost Town, Beach Pillows, True Story and Take Care. She received her Bachelor of Arts degree at Fordham College at Lincoln Center and lives in New York City.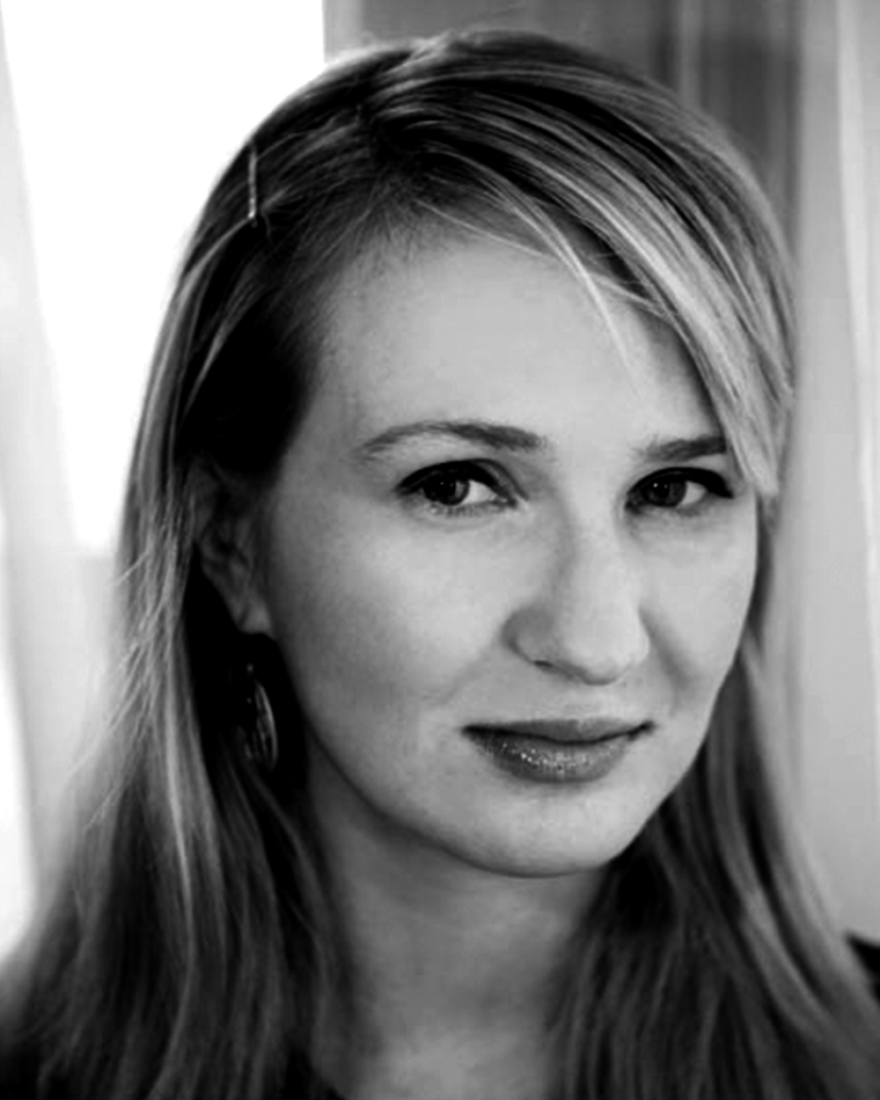 Halley Feiffer
Playwright
HALLEY FEIFFER is a writer and actress. Full-length plays include How To Make Friends and then Kill Them (Rattlestick Playwrights Theater, directed by Kip Fagan), Sidney and Laura, A Funny Thing Happened on the Way to the Gynecologic Oncology Unit at Memorial Sloan-Kettering Cancer Center of New York City and Valerie Sweet. Her plays have been developed by Second Stage Theatre, New York Theatre Workshop, LAByrinth Theater Company, the Eugene O'Neill National Playwrights Conference, and elsewhere. She is currently working on commissions from Manhattan Theatre Club, MTC / Sloan and Jen Hoguet Productions. She co-wrote and starred in the 2013 film He's Way More Famous Than You and the upcoming webseries "What's Your Emergency," both directed by Michael Urie. She won the Theatre World Award for her performance in the Broadway revival of The House of Blue Leaves and was recently seen in the revival of Jon Robin Baitz' The Substance of Fire at Second Stage, directed by Trip Cullman. She is thrilled to be back at the Atlantic, where she appeared last fall in Ethan Coen's Women or Nothing, directed by David Cromer. She currently writes for the upcoming Starz series "The One Percent."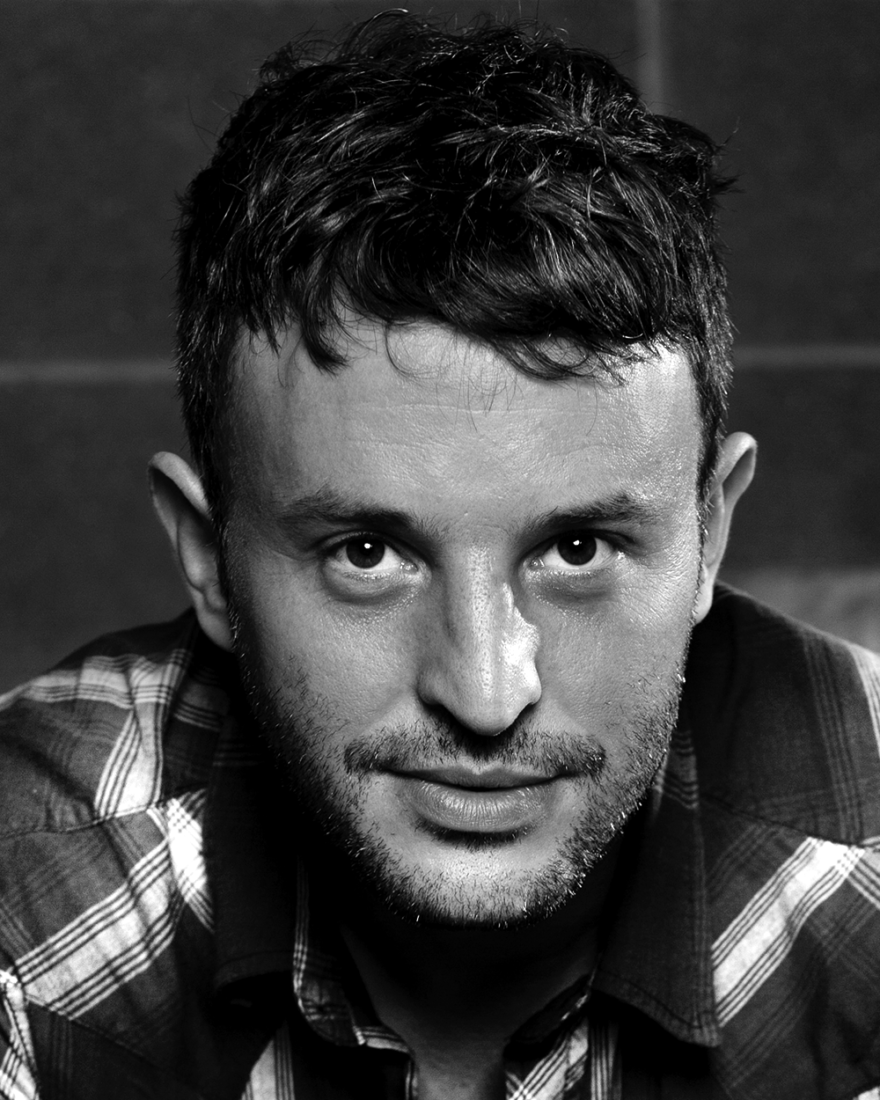 Trip Cullman
Director
TRIP CULLMAN. Select NYC: Simon Stephens's Punk Rock (MCC), Jon Robin Baitz's The Substance of Fire (Second Stage), Tarrell Alvin McCraney's Choir Boy (Manhattan Theater Club), Julia Jordan and Juliana Nash's Murder Ballad (Manhattan Theater Club and Union Square Theater), Paul Weitz's Lonely, I'm Not (Second Stage), Leslye Headland's Assistance(Playwrights Horizons), Adam Bock's A Small Fire (Playwrights Horizons, Drama Desk nom.), Adam Rapp's The Hallway Trilogy: Nursing (Rattlestick), Headland's Bachelorette (Second Stage), Terrence McNally's Some Men(Second Stage), Bert V. Royal's Dog Sees God (Century Center), Bock's The Drunken City (Playwrights Horizons), Weitz's Roulette (EST), Jonathan Tolins's The Last Sunday In June (Rattlestick and Century Center), Bock's Swimming In The Shallows (Second Stage), Gina Gionfriddo's US Drag (stageFARM), and several productions with The Play Company. London: Bock's The Colby Sisters of Pittsburgh, PA (Tricycle). Select regional: McCraney's Choir Boy (Geffen and Alliance), John Guare's Six Degrees of Separation (Old Globe), Richard Greenberg's The Injured Party (South Coast Rep), McNally's Unusual Acts of Devotion (La Jolla Playhouse), Christopher Durang's Betty's Summer Vacation (Bay Street), Bess Wohl's Touched (Williamstown Theater Festival). Mark Wendland
Scenic Designer
MARK WENDLAND. Broadway: If/Then, Merchant of Venice (Tony nom.), Next to Normal (Tony nom.), Talk Radio, An Almost Holy Picture, Death of a Salesman. New York: Punk Rock, (MCC), A Month in the Country, A Midsummer Night's Dream, Richard III, Hamlet, (CSC), Nobody Loves You, Lonely I'm Not, Boy's Life, Some Men (Second Stage), The Great God Pan (Playwrights Horizons), Murder Ballad, Beauty of the Father, Iron (MTC), RENT (New World Stages), The Intelligent Homosexual's Guide…, Satellites, Fucking A, Pericles, A Dybbuk, The Winter's Tale, Romeo and Juliet, Henry V, Cymbeline, Timon of Athens, (Public Theatre), Angels in America, Hot-N-Throbbing (Signature), Distracted (Roundabout), UNCONDITIONAL (Labyrinth). Jessica Pabst
Costume Designer
JESSICA PABST. Recent NY designs include: Pocatello, Grand Concourse, Assistance (Playwrights Horizons), By the Water, When We Were Young and Unafraid, Murder Ballad (MTC), Fortress of Solitude (Public Theater), Poor Behavior (Primary Stages), Somewhere Fun (The Vineyard) Buyer and Cellar (Rattlestick, Barrow Street, National Tour) Lucille Lortel Award for The Whale (Playwrights Horizons). Also designs with P73, Juilliard, Play Company, Long Warf. Clubbed Thumb associate artist. Upcoming: The Heidi Chronicles (Broadway). Ben Stanton
Lighting Designer
BEN STANTON. For Atlantic Theater: CQ/CX, Bluebird, Dusk Rings a Bell. Broadway: Fun Home (April 2015, Circle in the Square), An Enemy of the People (Friedman Theater), Seminar (Golden Theater). Recent Off Broadway: Fun Home (Lortel Nom., The Public), Our Lady of Kibeho, Kung Fu, Angeles In America (Signature Theater), Murder Ballad (Lortel Nom., MTC/Union Square Theater), Belleville (Lortel Nom., NYTW), Into The Woods (Delacorte), The Whipping Man (Lortel Award, Drama Desk Nom., MTC). Selected Regional: Amhanson Theater, Mark Taper Forum, Kirk Douglas Theater, La Jolla Playhouse, Old Globe, South Coast Rep (CA), Goodman Theater (IL), Shakespeare Theatre (DC), Hartford Stage, Long Wharf (CT), Dallas Theater Center (TX), Huntington Theater, WTF (MA), Philadelphia Theatre Co., Paper Mill Playhouse, McCarter (NJ), Intiman (WA), Actors Theater of Louisville (KY). Concert & Tour Designs for Regina Spektor, Sufjan Stevens, Beirut, St. Vincent. Touring LD for The National (summer/fall 2014). Daniel Kluger
Sound Designer
DANIEL KLUGER. New York: Women or Nothing (Atlantic Theater Company), How to Make Friends and then Kill Them, The Few, Ode to Joy, The Correspondent (Rattlestick), The Village Bike, Really Really (MCC), You Got Older (PAGE 73), Your Mother's Copy of the Kama Sutra (Playwrights Horizons), Nikolai and the Others (Lincoln Center), Somewhere Fun, The North Pool (Vineyard), Tribes, Hit the Wall (Barrow Street Theatre). REGIONAL: The Old Globe, Mark Taper Forum, La Jolla Playhouse, Long Wharf, Pig Iron, TheatreWorks Silicon Valley, American Players Theatre. www.danielkluger.com Sam Pinkleton
Choreographer
SAM PINKLETON. New York: Machinal (Broadway/Roundabout), Mr. Burns, A Post-Electric Play; Fly By Night; Stage Kiss (all at Playwrights Horizons); Kansas City Choir Boy (Prototype Festival), Natasha, Pierre, and The Great Comet of 1812 (Kazino); Marie Antoinette (Soho Rep); Buyer and Cellar (Barrow Street/Tour); Tamburlaine The Great (Theatre for a New Audience), The Lightning Thief (Theatreworks USA). Regional: The Understudy (McCarter Theatre); Spring Awakening (Olney Theater Center). Opera: Falstaff (CSC). Sam is co-director of The Dance Cartel's long-running ONTHEFLOOR at the Ace Hotel NY and teaches Bustin' Moves at NYU. He is an Associate Artist with The Civilians and Witness Relocation. Current/Upcoming: Pretty Filthy (The Civilians), Hair (Kansas City Rep) Amelie (Berkeley Rep). www.sampinkleton.com J. David Brimmer
Fight Consultant
J. DAVID BRIMMER. Fight Master, SAFD. Broadway: Grace; An Enemy of the People; Hands on a Hardbody; The Big Knife; Wit; Born Yesterday; A Life in the Theatre; Speed-the-Plow; Come Back, Little Sheba; Spring Awakening; The Lieutenant of Inishmore; NY premieres: An Octoroon, Mr. Burns, Blasted, The Whipping Man, Bethany, We are Proud to Present, Harper Regan, Hit the Wall, Ages of the Moon, The American Pilot, Blackbird, Bug, Killer Joe, worked at some wonderful venues: The Public Theater, Metropolitan Opera, MTC, Atlantic, LCT3, The Women's Project, Soho Rep, MCC, Signature Theatre, TFANA, Roundabout, Dallas Theater Center, Hartford Stage, NSMT, A.R.T., Baltimore Centerstage, Yale Rep, The Guthrie, and with some great folks: David Mamet, Sam Shepard, Ethan Coen, Martin McDonagh, Tracy Letts, Kenneth Lonergan, Ken Russell, Franco Zeffirelli. "Walk cheerfully over the world, answering that of God in everyone." —G. Fox. Lori Ann Zepp
Production Stage Manager
LORI ANN ZEPP. Broadway: Jay Johnson: The Two and Only. Selected Second Stage: Lips Together, Teeth Apart, Mala Hierba, The Substance of Fire, Murder For Two, The Tutors, Modern Terrorism, Warrior Class, Lonely, I'm Not, All New People, By the Way, Meet Vera Stark, Bachelorette, Year Zero, Wildflower, Becky Shaw, Animals Out of Paper, Next to Normal, Election Day, Some Men, Swimming in the Shallows. Other Off-Broadway credits include: Father Comes Home From the Wars, Parts I,II,III (Public Theater Lab), The Mound Builders (Signature Theatre Company), A Small Fire (Playwrights Horizons), Dog Sees God… (Century Center). Regional credits include: Other Desert Cities (Alley Theatre), The Power of Duff and Becky Shaw (Huntington Theatre Company). Caroline Schreiber
Assistant Stage Manager
CAROLINE SCHREIBER. Off Broadway: Our New Girl, The Night Alive and Women or Nothing (Atlantic Theater Company), Appropriate (Signature Theatre), The Valley of Astonishment (Theatre for a New Audience); Regional: The Santaland Diaries (Triad Stage). BFA Stage Management, University of North Carolina School of the Arts.
Reviews
"Bone-chilling! A potently acted, punishing drama by Halley Feiffer. Played with lacerating intensity by Reed Birney! Director Trip Cullman keeps the pace taut and elicits precise work from both actors!"
the new york times
"One of the best plays I've seen this season! Provocative, sensitive, shocking. The writing is polished and probing! A tense thriller that left me shaking! Betty Gilpin and Reed Birney are electrifying!"
new york observer
Photos by Ahron R. Foster